Do you run a D2C small business?
Are you looking to expand your offerings and reach new customers?
Social media can be an effective marketing strategy for your small business, but it can be challenging to keep up with the ever-changing online landscape.
When it comes to social media automation, there are a lot of myths out there. People seem to think that if they automate their social media tasks, they will lose control over their accounts and end up with a bunch of robotic posts that no one will want to read.
However, this may not be far from the truth. Automating your social media tasks can provide many back-end benefits that you may not have even considered.
In this article, we will take a look at 11 of the overlooked benefits of using social media automation.
Let's dive right into it!
What is Social Media Automation?
Social media automation is defined as the process of automating social media activities for the purpose of optimizing social media results. In addition to saving time and effort, it promotes brand awareness and helps marketers manage social platforms.
With every internet user present on at least two or more social media channels, more than 80% of a turn to these platforms to discover new brands and seek assistance in making a purchase
D2C brand marketers believe social media plays an important role in increasing brand awareness and driving sales but the increasing competition requires better strategizing
To stand out on social media, D2C brands must understand who their customers are, how they want to be addressed and implement campaigns that add value.
Role Of Social Media In E-commerce
Given that nearly 50% of the world's population uses one or more social media platforms, the opportunity is huge for any e-commerce brand to engage with its shoppers and the target audience at large.
Why Is It Important for D2C Brands?
Social media is an incredibly effective marketing channel. But it can be tricky to use efficiently. With so many social networks, communities, and microtargeting options, brands have endless options for maximizing their social media efforts.
And while this variety has its benefits—such as giving users a lot of choices when it comes to their online presence—it also makes it difficult for companies to stand out from one another.
The good news is that new software tools are making it easier than ever before to schedule a social media post and interactions across all of your channels.
These types of services will help you streamline your publishing process so that you only post content on niche sites when they're relevant to your brand instead of leaving everything open for everyone. With automation, you can also schedule Instagram Stories and Facebook Posts using Facebook publishing tools, so that they don't get in the way of your workday.
Which Platforms Support Social Media Automation
You might be wondering if any of your social media channels support automation. Fortunately, the majority of platforms have implemented the feature. Here's a brief overview of the ones we recommend:
Facebook – Posting dates, times, and words can be set in advance. Depending on your network settings, your posts can also be "bot-ed" so they look like they're from real people.
Instagram – You can schedule posts to be published at specific times, but you can't set them to appear on specific dates.
LinkedIn – Automating your posts is possible on the company's standard plan. With paid plans, you can also create custom post templates.
Pinterest – You can schedule posts, but you can't set them to appear at specific times.
Twitter – The scheduling option is supported on most platforms, but it's only available on tweets. And you can't set tweets to be posted at specific times.
In this article, we'll explore seven of the key benefits of using social media automation.
1. Grab More Engagement
Above everything, social media marketing emphasizes building relationships on social media. Rather than focusing on sales on social media, sharing engaging information, building trust, and listening to customer feedback are given top priority.
Sustained interaction on social media will ultimately lead the consumer to a product purchase. To build better relationships with customers, brands need to take on a number of activities, such as:
Interacting with followers
Participating in groups
Hosting live chats, and more.
It is vital that eCommerce rethinks its social media strategies more towards building a bond with their customers based on "emotional relationships" than a "transactional relationship" alone.
To make a lasting impression on your audience, you need to make an emotional connection with them.
2. Social Listening
Tracking/monitoring your brand's online conversations is known as social listening. These conversations can be in the form of mentions, tags, hashtags, and reviews.
Strategy to track your social listening enables you to better understand what your customers/audience want from your products and services.
The top reasons why social listening should be a part of your e-commerce social media strategy are:
being able to better understand your customers' preferences and dislikes
Discover what your customers really want from your business
Understanding the concerns of your customers that need to be addressed urgently
Acquire insights into your customers' minds and get an edge over your competitors.
3. Social Influence of Influencers
Influencers that have a strong followers list on their social media handles can go a long way in providing a big boost to your brand. The aim of this is to reach a wider audience while also building trust with them.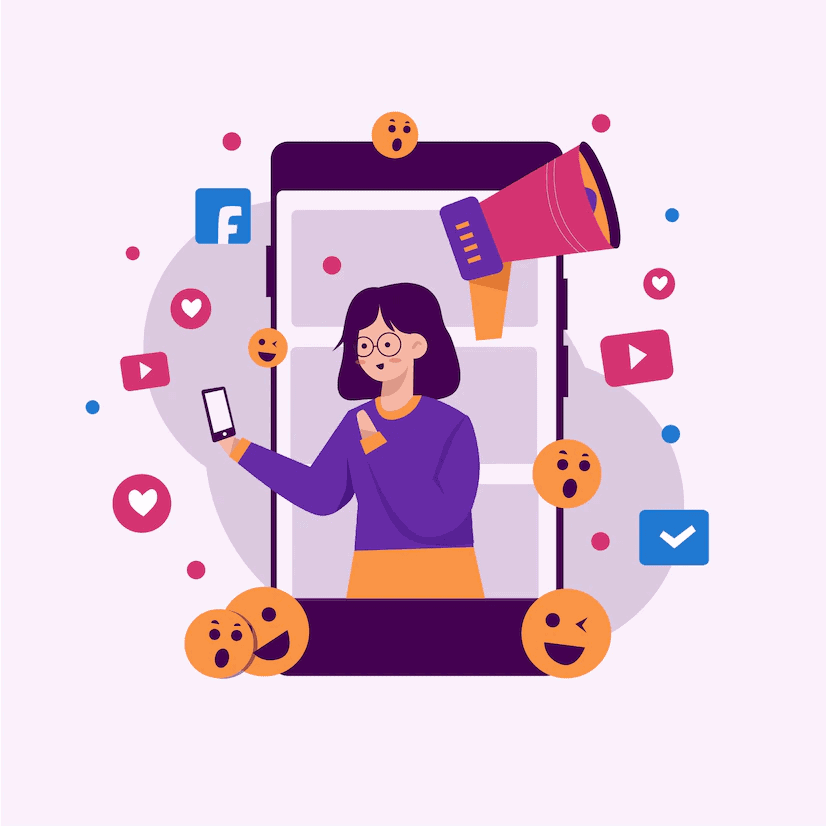 Source: Freepik
Using Influencer marketing, if done right, alone can deliver a double-down social media return on investment (ROI) than traditional methods of digital marketing.
4. Build Trust Through Your Blog
A blog is a digital asset that helps in SEO and makes it possible to share thought leadership and engaging content on social media channels. It also serves as a pitch when you launch new services or products & can redirect a lot of traffic to your website.
By connecting your blog to engaging social media posts, you can facilitate smooth your customers' buying journey.
The best example of a leading eCommerce company that made the best utilization of its blogs is Myntra, India's major e-commerce portal for fashion & lifestyle which has curated intriguing articles and has been a leader in its industry and has become an opinion leader.
Placing links to their products strategically within their blog has led to a better conversion rate.
5. Creative Communicating Design
Ensure the entire aesthetics and color scheme of the post while designing social media posts, it should reflect the core values of your business.
Staying true to your brand's personality can lead to determining your brand values and targeting your content accordingly. This is where having an agile content review process becomes imperative. It helps your team have clear brand messaging across any creatives you create.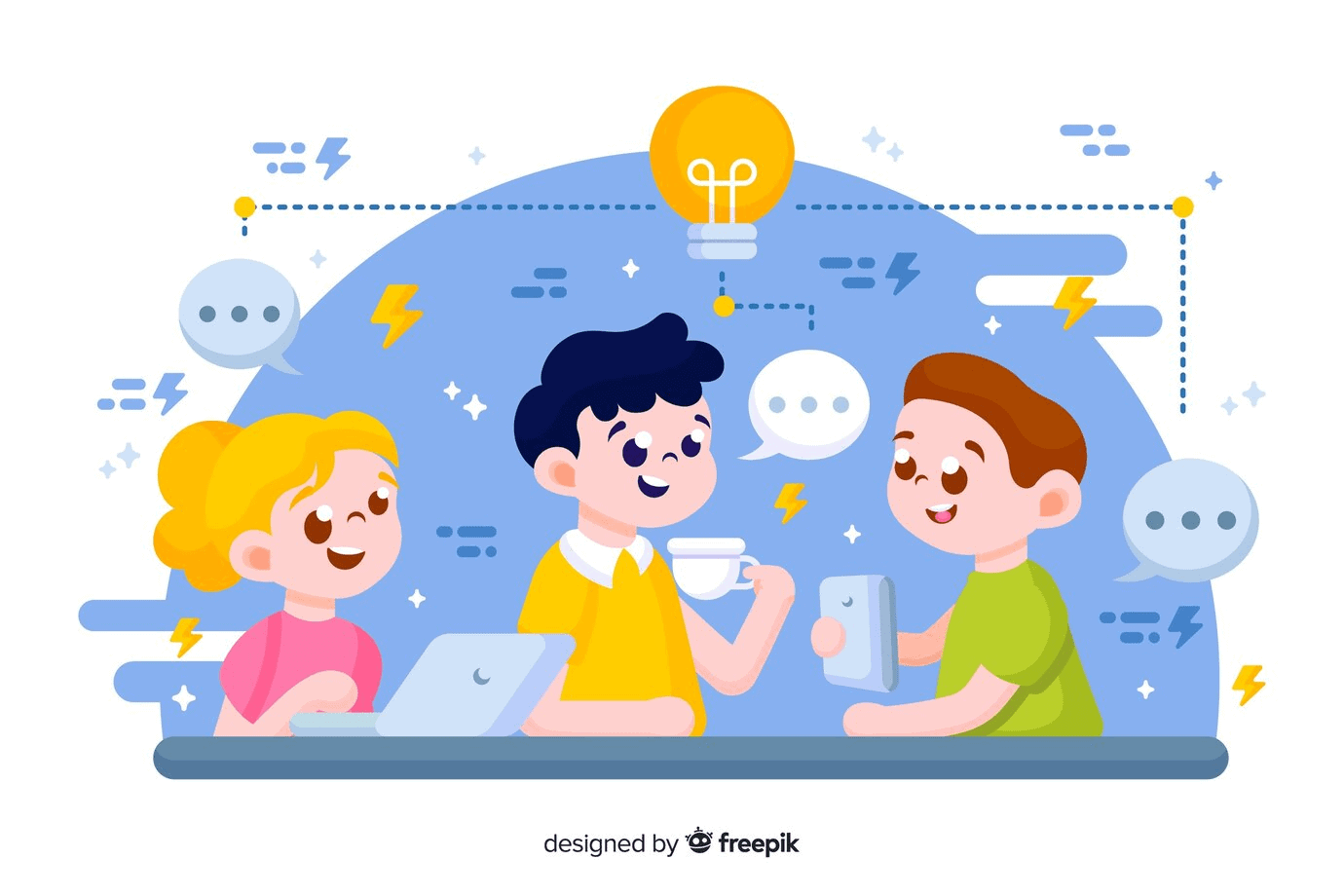 Source: Freepik
Your posts could reach beyond your immediate followers when you use well-researched keywords.
Similarly, using hashtags on social media platforms will make your content more discoverable. A/B testing or preference testing of post-creative content will increase conversion rates.
6. Promotional Offers
Discount & giveaway campaigns are really fruitful on social media giving your brand a good engagement for eCommerce marketing strategy.
An ideal example of this is Lenskart, an eCommerce company for eye care and spectacles. They have obtained a lot of success in their promotional social media campaigns where they provide a free coupon of Rs. 150 on new registrations.
One of their campaigns gathered more than 1.6 million Facebook hits and 6000+ Twitter followers, which is no small accomplishment.
Similarly, including polls in your posts will magnify the engagement and provide you with deep insight into your audience's thought processes and behavior.
7. Provide Better Customer Service
Whether it's addressing specific concerns or listening to client feedback, social media gives you the ability to provide quick, quality customer care. According to the Sprout Social Index, 53% of brands say customer service contributes to the organization's social strategy.
As opposed to phone calls or emails, social customer service is quick and to the point. But it still allows brands to have forward-facing and meaningful conversations with customers.
Customers, prospects, and competitors can similarly see how you interact with your audience online. Putting positive interactions left, right, and center is a huge plus for any business.
Social media also provides a prime channel to collect customer feedback. Responding to concerns and concerns signals that you're invested in serving your audience.
8. Positioning Power for Your Brand
Simply having an active presence on a social channel constitutes positioning power for your D2C small business. Let's say your closest competitor has an Instagram account that's booming with customer stories, photos, and sleek snapshots showing off their product.
On the other hand, you have an Instagram profile that's accumulating cobwebs. Not a good look, right?
Consistently publishing on channels relevant to your business indicates that you're active and open to new customers.
Whenever someone searches for your brand on social media, you will gain the positioning power of social media. Your Facebook or Instagram could very well be your brand's first impression on a customer versus your website.
This again speaks to the significance of maintaining an active presence.
9. More Top-of-Funnel Leads
Acquiring more top-of-funnel leads is another key social media business advantage. Social media platforms are used by billions of people every day, so your target audience may already be on the platform.
Increasing brand awareness can help you attract more top-of-funnel leads, regardless of whether you use paid ads or content marketing.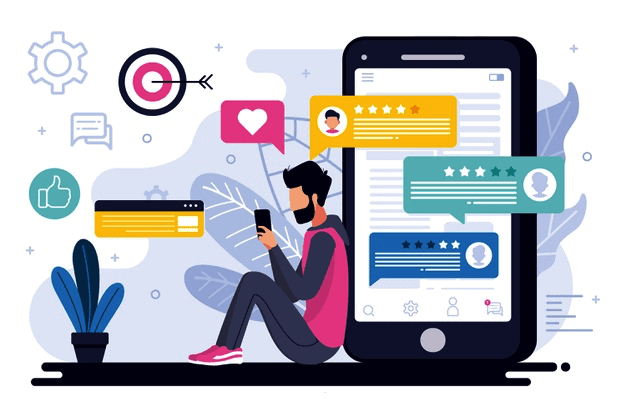 Source: Unbox Social
A social presence allows you to introduce your product to more people and gain more sales. Even if these leads don't make purchases directly through social media, raising awareness could lead them to become full-fledged buyers later on.
They cannot buy your product or service until they know your brand exists.
10. Stronger Talent Acquisition
Almost half of the marketers say finding experienced talent is their biggest challenge this year, but social recruiting can make it easier.
Applicants are utilizing social media to network and conduct research on companies. Candidates often follow brands to stay on top of potential job opportunities.
Leveraging social media platforms allow for stronger talent acquisition because it opens up your sphere of applicants. Employee advocacy is one way to make your company stand out from the crowd.
When current employees rave about your company on networks like LinkedIn, it builds up your brand's reputation. When a company posts a "we're hiring" announcement on social media, many applicants use social media to research the company's culture and values.
11. Build a Great Brand Reputation on Social Media
Social media users are not shy to share their customer experiences, singularly if they are not satisfied with the quality of your products or customer service. The eCommerce market is filled with high-risk orders, so it's almost inevitable that you have to deal with bad reviews from time to time.
Word-of-mouth marketing works extremely fast. When people read negative comments, it influences consumer perception of your business. Thus, eCommerce businesses should take care of keeping up a positive brand reputation on social media.
People buy from brands they trust, so you have to deal with negative feedback briskly, whether you check out business tags, read comments, or monitor Facebook ads comments.
Thankfully, the right social media automation software can help you maintain a positive online reputation.
Wrapping up on Benefits of Social Media Automation
Automation can help your social media efforts by saving time and promoting consistency in your posts.
It can also help you expand your social media reach by reaching new audiences on secondary networks and only have to remember to post on your main channels.
Aside from creating better content, social media performance should also be analyzed.
The most important thing when choosing social media management tools is knowing your needs. Understanding your brand needs will help you identify where improvements can be made.
We suggest you try using Bulkly and hopefully you will see higher results soon.