With the number of users posting content every second of every day, it's easy to get lost in the hoards of social media. That's why having a social media dashboard is so crucial.
The use of social media to generate leads and expand your business has become essential.
We all know how important it is to analyze social media data. This type of study aids us in determining our target audience's preferences, improving the performance of our content, and, as a result, optimizing our approach.
Data is sometimes all we need to impress our clients and demonstrate our diligence.
However, just like you should check your emails every morning, you should check your main social media analytics at least once a day.
How do you achieve this without entering into each social media platform every day and looking for specific metrics? The solution is simple: use a social media dashboard.
What is a Social Media Dashboard?
A social media marketing dashboard is a tool that assists digital marketers and agencies to keep track of engagement, subscriber and follower counts, and audience data on your social media accounts.
Log into your dashboard to save time rather than tracking your metrics on each individual social media channel. Social media dashboards combine analytics from sites such as Facebook, Twitter, and YouTube and present all of your data in one place.
You may immediately gain insights to help you engage with your audience, enhance conversion rates, and earn income by analyzing your stats on a social media dashboard weekly or even daily.
A social media dashboard allows you to track everything from Instagram activity to Facebook comments to LinkedIn shares for your company.
With a dashboard, you can see what's working and what's not, and work to optimize each social channel ahead of time.
As social media becomes a major marketing channel, having a dedicated Social Media dashboard that tracks activity and ROI allows Social Media marketers to become more data-driven and secure executive buy-in and budget for their projects.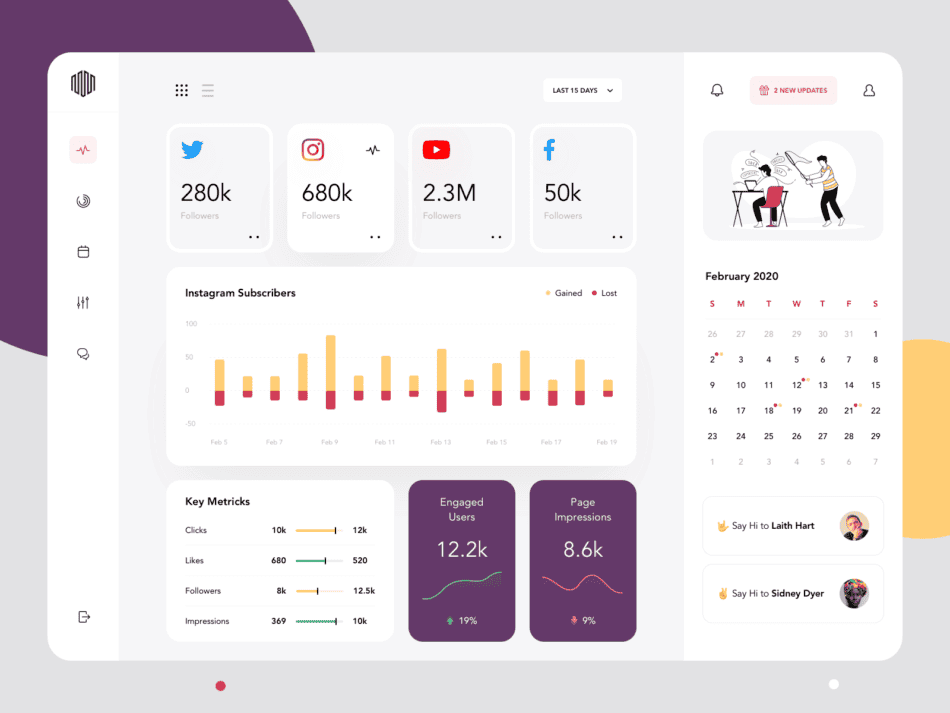 Why do you need a social media dashboard?
Social media is an essential component of every digital marketing plan. Social media sites are among the most popular websites on the internet, and you must take advantage of the enormous volume of visitors.
A social media dashboard allows you to monitor the key performance indicators (KPIs) of your social media accounts to ensure that your tactics are operating as planned.
Understanding how to engage your audience through social media channels is crucial in digital marketing. It can help you improve and enhance the effectiveness of your marketing efforts.
Using a social media dashboard, you can observe which social media methods are most effective for you and your company, as well as which ones aren't.
To top it off, you can combine all of your preferred social media metrics into a single reporting dashboard, which you can then share with your entire team.
Aside from combining all of your social networks into one dashboard, a social media marketing dashboard also helps you to develop personalized reports for your clients, keeps them informed, and enables you to focus more on marketing efforts and less on analytics reports.
Many social media dashboard providers cater to agencies and large corporations. However, they aren't the only ones who can benefit from such a useful piece of technology.
You'll benefit from a social media dashboard if you are a content creator or social media manager, run a company, marketer, or small business owner.
You need a social media dashboard for the same reason you'd need any other specialized software in your business: it will help you stay organized, increase output, assist you in your work, have a better knowledge of your performance, and enhance it
And, as a result, increase the impact of your social media marketing and, with it, your ROI.
Benefits of using Social Media Dashboard
Social media dashboards are the greatest way to keep track of mentions, hashtags, and notifications across all of your social media accounts. This allows you to receive the information you need fast and effortlessly, without being distracted by other things.
Using the correct social media management dashboard may make your life a lot easier and ensure that your social media marketing efforts pay off. There are various social media dashboards out there that may best suit your budget and brand like Hubspot, Sendible, Later, Sprout Social, etc.
The top dashboards connect with all of the major social media platforms and provide a variety of options. They provide everything from real-time data management to engagement indicators that aid predictive analysis.
If you're thinking about using a social media dashboard, you'll want to know how it can help you. This is how you can use the social media dashboard to your advantage:
Boost Your Efficiency
Don't lose time by staying buried in the social media swamp. Combine your platforms and notifications on one site to better manage your time.
You can even learn about the time management matrix and further shed more time off business processes to boost efficiency further.
You can ensure that you manage your time wisely between social media and other elements of your business by using a social media dashboard.
However, not all dashboards are created alike. You must choose which tools are most effective for you and your firm. More often than not, you'll want a single tool that can handle a variety of jobs.
You can focus on generating leads and increasing sales without having to check your many different accounts if you find the best social media one-stop shop at a reasonable price.
Being efficient requires a high level of productivity, and hiring a staff to handle your social activities is simply too expensive for most people.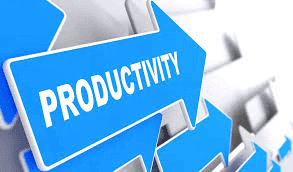 Keep a track of your data and monitor it
Dashboards that provide a bird's-eye view of interaction opportunities, brand mentions, social demographics, and more are perfect since they allow you to monitor crucial social media marketing data and analytics in real-time from a central spot.
It's critical to keep track of mentions, keywords, hashtags, and competition on all of your social media sites. By having this information easily available, you can stay on top of everything important to your company and stay ahead of trends.
You can also use a solid social media dashboard to engage. Interacting on social media is the best way to create trust and grow connections, generate leads and increase sales.
By being able to engage and interact directly from your dashboard, you can avoid having to navigate to each account every day.
Because you can track mentions, keywords, hashtags, and competition across all of your accounts, this is one of the most significant features of a social media dashboard.
You can remain on top of everything essential to your organization and stay ahead of trends by having this information readily available.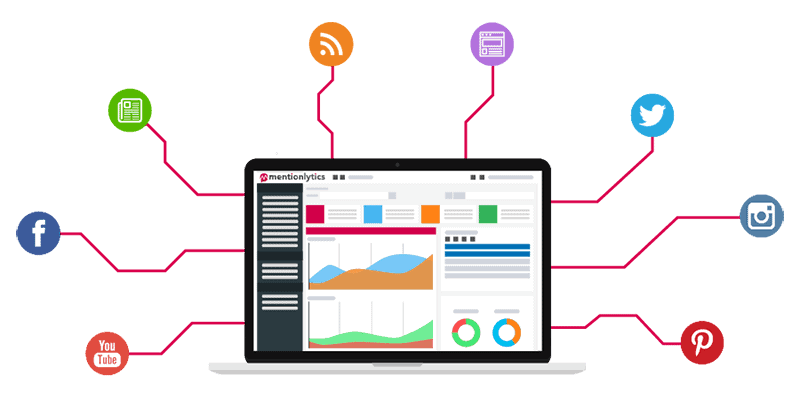 Collaborate with your team
Collaboration is critical for agencies that manage multiple customers' social media profiles, as well as huge corporations with multiple departments.
This allows you to delegate responsibilities, approve upcoming posts, and identify who is in charge of which tasks.
However, for small and medium-sized organizations, social media collaboration can be a very useful tool.
Because the owner or management team is too busy, most of these businesses utilize interns or part-time employees to monitor their social media accounts.
Multiple social media identities for each of a company's clients are frequently managed by teams. It's useful to have a dashboard that allows for numerous user rights in these situations.
Your dashboard should specifically allow you to construct an organized hierarchy with a management team, team members, and all social accounts so that everyone can readily cooperate on content and methods.
Collaboration is even more fruitful with features like message notifications and internal dialogues within the dashboard.
If you work in a group, you'll want a social media dashboard that allows you to collaborate easily. It must link the dots in a way that saves you time and prevents you from having to go off-platform to resolve issues.
Brand Management
You may set up keyword searches on the dashboard to see what others are saying about you and your product or service. Finding these promptly and engaging with them can help avert PR crisis in the future or foster positive feelings
Various campaigns necessitate various metrics and data. I recommend that you look for a dashboard that allows you to modify and categorize different activities so that you can identify and work on multiple campaigns at the same time.
The amount of information available can easily overwhelm you. When properly maintained, however, that data is the most accurate way to establish whether or not your campaign was a success.
You may use the social media dashboard to track the progress of your campaigns when your organization establishes S.M.A.R.T. goals and determines the KPIs that are relevant to your company.
One of the most significant features of a social media dashboard is that it allows you to track vital metrics such as follower trends, number of mentions, and when your target audience is online.
This means you may reorganize your plan as needed to ensure that your social media marketing is getting the most bang for your buck.

Schedule Content
A well-organized posting schedule is essential for a successful social strategy. Another benefit is that you can quickly amend, adjust the times, or add additional postings without disrupting your schedule.
A dashboard that automates the production of social media material across many social profiles is well worth investigating.
Sprout Social dashboard for example allows you to store drafts for peer or team review, as well as schedule content for publication in the future.
If you want to post to multiple networks several times a day, you'll need to spread them out.
Scheduling your content saves you a lot of time and allows you to learn more and stay up-to-date on the latest digital marketing trends.
A dashboard's scheduler feature allows you to set up what you want to send and when, once a week or once a month, and then let it do its job.
While you have MS Excel or Google sheets to stay organized, is your spreadsheet capable of automatically organizing and posting it in advance? Is it possible to simultaneously publish several posts across all major social media platforms?
Most certainly not!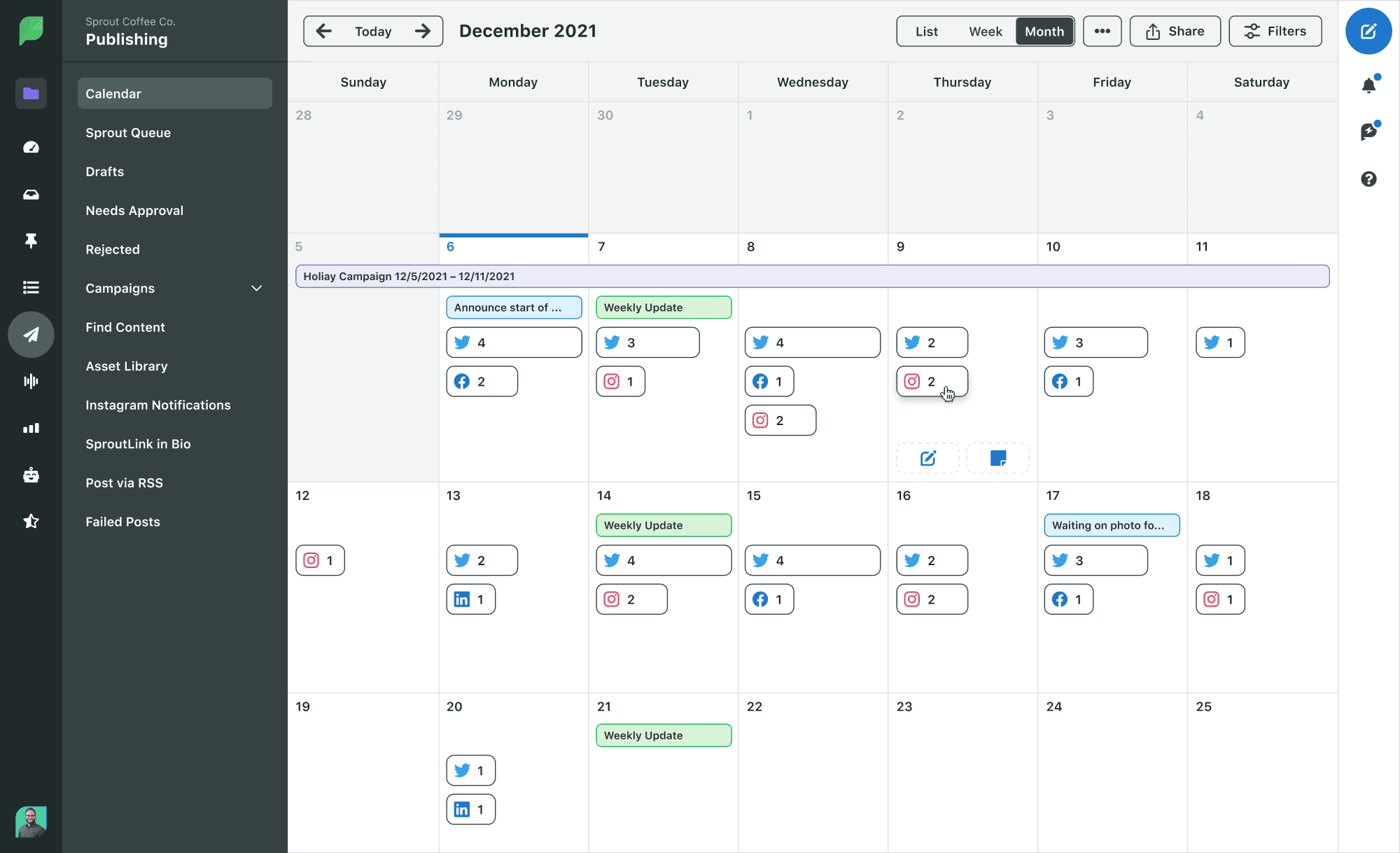 Tools like MS Excel and Google sheets definitely help you stay organized manually but social media dashboards allow you to automate your tasks.
You don't really need to set a reminder for you to update your various social media accounts.
You only need to spend a few hours once a week using a social media dashboard to schedule your posts in advance.
Top 6 Social Media Dashboards (Tools & Apps):
To keep ahead of the game, your competitors are almost certainly utilizing a social media dashboard, and you should consider it as well.
When selecting a dashboard for personal or professional use, consider factors such as cost, analytics, and the social networks it supports, among others.
The right social media dashboard can help you keep all of your social profiles up and running while also managing those crucial customer interactions.
Now that you've learned about the advantages, here are some tools you can use.
Bulk.ly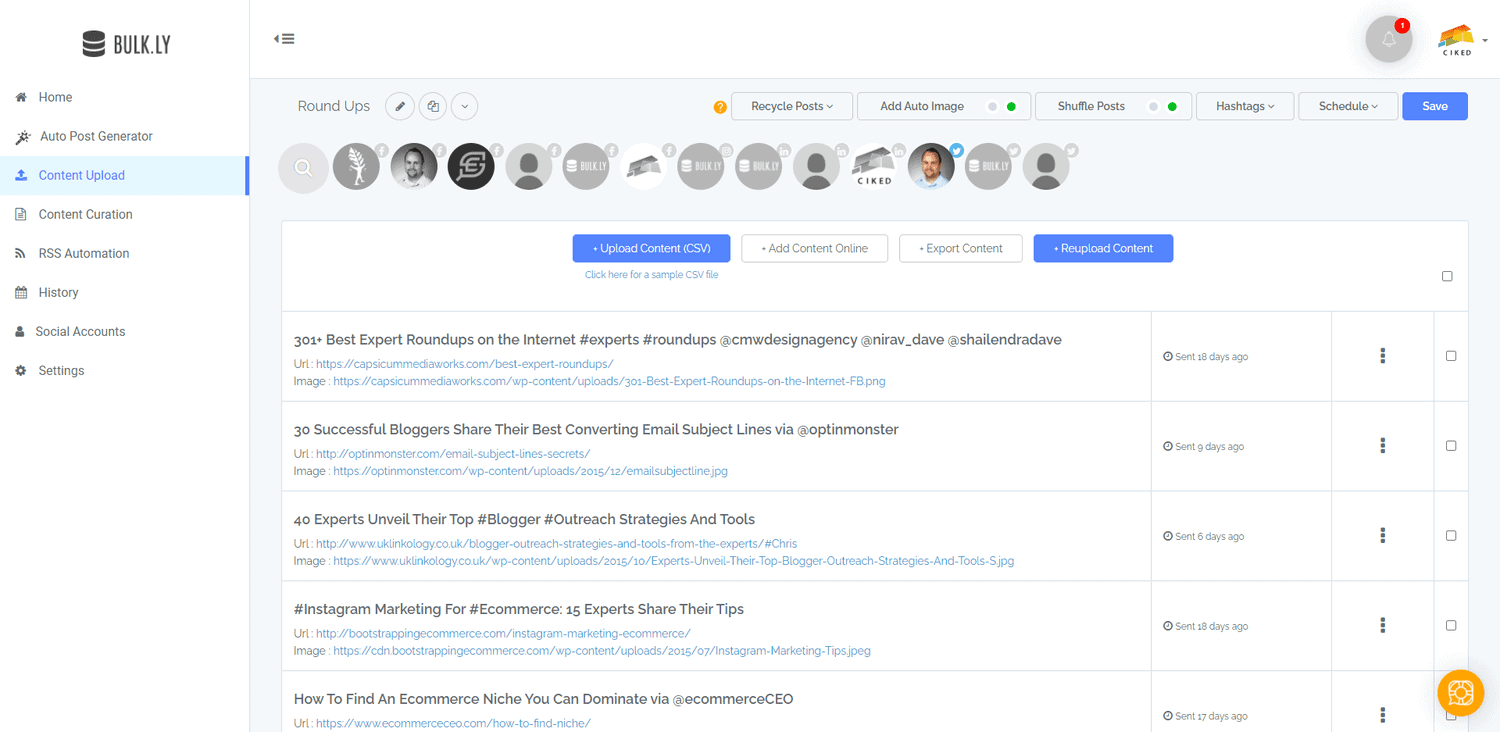 Bulk.ly is a Buffer-compatible social media automation tool that makes it simple to add and reuse status updates.
A social media automation tool that allows you to upload lists of posts for scheduling and assign them to a regular, subjective posting schedule.
Creating evergreen status updates is as simple as importing previous Buffer updates, uploading CSV files of social updates, or using RSS feeds.
Bulk.ly's features include drip scheduling, shuffle/randomize post order, and randomize hashtags, to name a few.
Monthly Cost: Pro- $19.00 and Pro Plus- $39.00 ( with 7 days free trial)
Hootsuite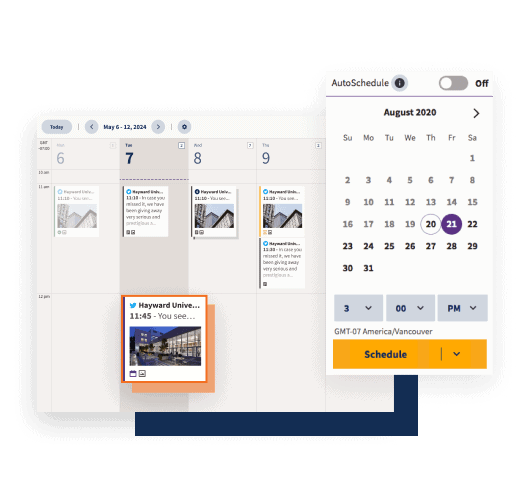 Hootsuite is a well-known and widely used app for social media scheduling and marketing. With built-in teamwork features, you can schedule posts, receive detailed reports, and collaborate with your colleagues.
It allows you to listen to what your customers have to say while simultaneously viewing multiple streams. Hootsuite also simplifies scheduling.
You can currently add these social networks to Hootsuite: Facebook, Twitter, LinkedIn, Google, Instagram, and Youtube.
Monthly cost: $39.00 (with a 30-day free trial)
Sprout Social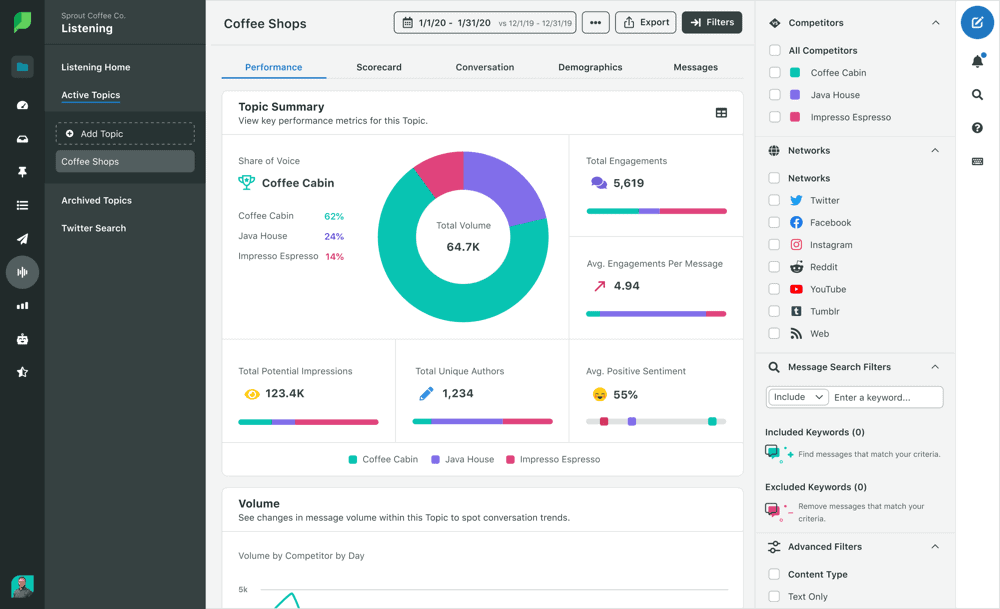 Sprout Social is a platform that combines numerous social media capabilities into one, including scheduling, monitoring, and reporting.
It's one of the few social media management platforms with CRM features. You can better serve and engage with your customers if you have a comprehensive summary of them.
You can use this tool to check that your social media performance is up to standard. You can unlock the hidden power of social media with this comprehensive social media management tool.
Instagram, Facebook, Twitter, LinkedIn, Pinterest, and a variety of other social media networks are all available.
Monthly cost: $99, $149, and $249 (with a 30-day free trial)
Crowdfireapp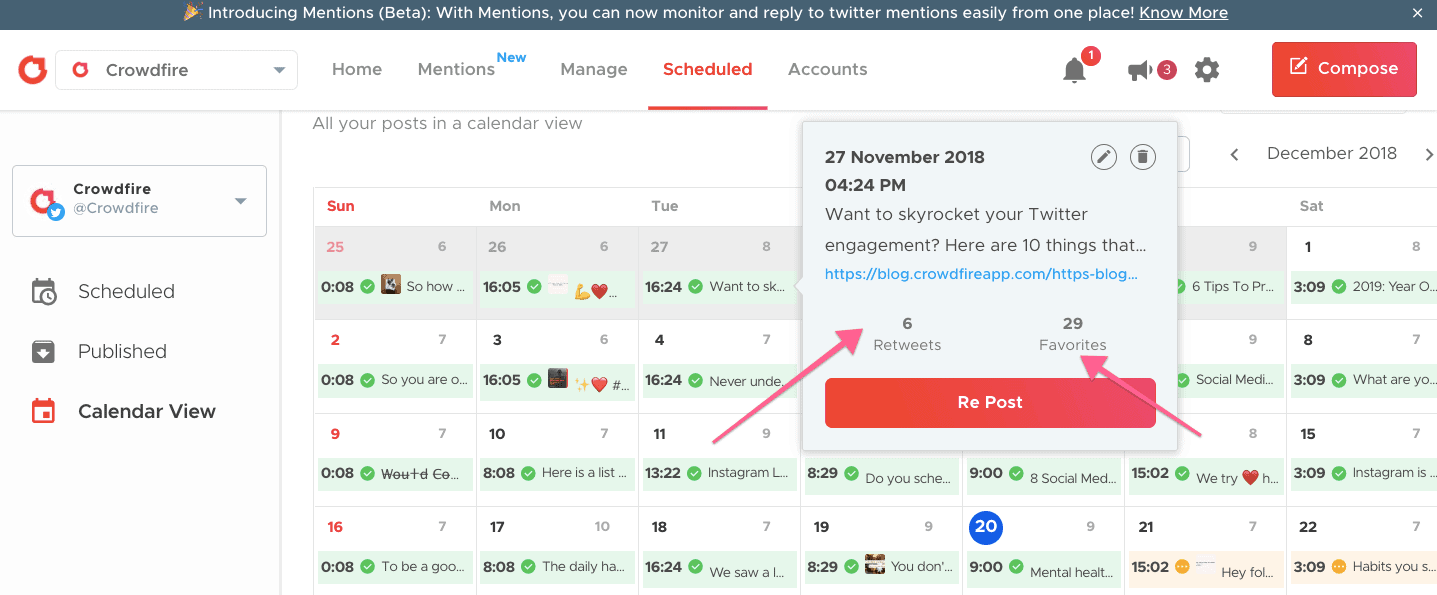 CrowdFire is a popular social media scheduling tool that lets you manage all of your accounts from a single location.
The tool also helps you find industry-relevant content, allowing you to keep your profiles active at all times. You can also utilise an RSS feed to publish blog posts directly to social profiles from your website. Make changes to the posts to suit your needs.
It can be used for a variety of tasks, including content curation, scheduling, competitor analysis, and social listening.
Monthly Cost: Free version, $9.99, $49.99, & $99.99
Buffer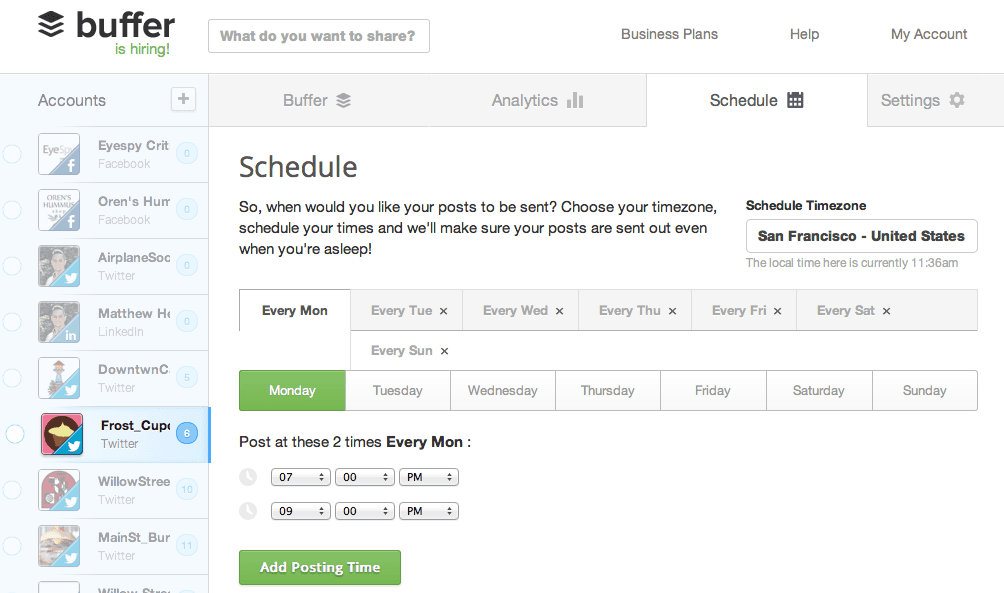 Buffer is another tool for managing and scheduling social media posts. The app also has analytics capabilities that let you track your audience's activity and figure out when the best time is to post in the future.
It's a more straightforward and efficient method to manage your social media, and you're only a few clicks away from getting everything set up.
Buffer is compatible with over seven platforms, with the free plan allowing you to add up to four additional.
Monthly Cost: Free plan, $15, $99, $199 & $399
Social Pilot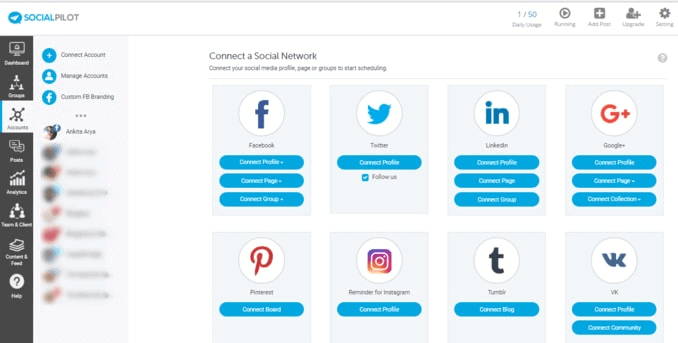 For agencies and small businesses, SocialPilot is a simple and cost-effective social media management tool that helps them increase their brand presence across all major social media networks.
With extensive capabilities, it aids in the execution of a well-planned social media posting schedule.
They have a mobile app as well as a browser extension. You can post to LinkedIn, Twitter, Instagram (Direct Publishing), TikTok, Facebook, Pinterest, Google My Business, Vk, and Tumblr using SocialPilot.
It is popular among small businesses due to its low cost and user-friendly interface.
Monthly cost: $30 & $50
Later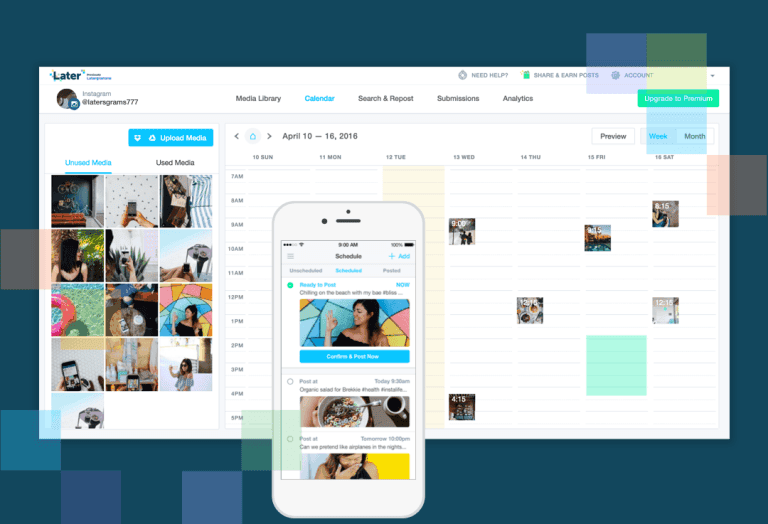 Later, initially began as an Instagram scheduling tool, but now it has expanded to support other social networks and is constantly introducing new features.
It has an image-based content calendar that allows you to receive a monthly visual summary of your brand.
Later is an Instagram partner, which means it uses the Instagram API. The app puts a lot of emphasis on visual content.
It offers a free plan that you can use indefinitely, but paid plans include features like analytics, saved captions, scheduled stories, and more.
Monthly cost: $9, $19, $29, and $49
Final Thoughts on a Social Media Dashboard
You already know that social media interactions are the most effective way to create leads.
Because social media is still a major marketing medium, and more executives want to see improving metrics from it, you can easily develop a social media dashboard that records all of your channels in one spot.
With the right social media dashboard, you can optimize your strategy and outperform your competitors, resulting in higher profit margins.
Running a successful business takes a lot of time and work, so be sure you're using your resources wisely. You must now leverage a social media dashboard to streamline your strategy.
Whichever tool you choose, be sure it meets the needs of your company.
So, what tool are you going to try first?