Are you looking for ways to increase conversions? Increasing conversions is vitally important. It directly impacts the overall revenue and growth of your business.
Unfortunately, the fierce competition is making it nearly impossible to appear on the top search engine results, but with help from social media SEO tools it is possible.
According to WorldOMeter, marketers publish more than 5 million blog posts every single day.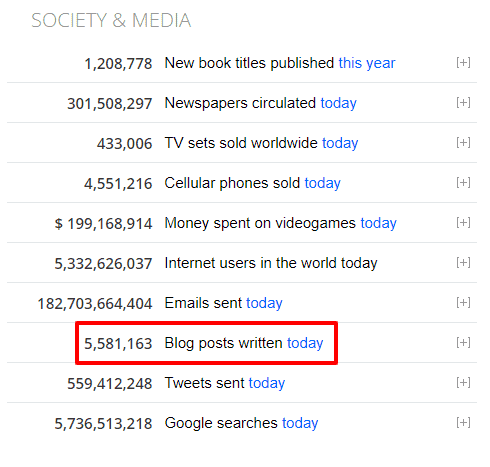 Image Source: WorldOMeter
With such a massive amount of content being published every day, the odds of your business content ranking on top positions in Google search results are close to zero.
On top of that, the recent Google algorithm updates have only made it increasingly difficult to figure out what can be considered quality content.
Fortunately, there is an alternative way to increase conversions.
Enter social media SEO tools!
What is Social Media SEO?
Social media SEO refers to the use of social media platforms as an indirect channel to increase organic search rankings and ultimately conversions.
While it's no secret that social media does not directly impact search engine rankings. But, social media platforms do play an important role in helping businesses get their content in front of a larger audience.
Furthermore, the social signal generated through likes, views, comments, and shares has proven to contribute to building customer loyalty & increasing the brand exposure of a business.
All of these, in return, directly influence your SEO performance in a variety of ways such as:
Extends the lifespan of your content
Enhances brand reputation
Elevates customer loyalty
Increases online visibility
…Giving a boost to the overall visibility of your business in search engine results.
You see, as more and more people start sharing your content on social media platforms, the more social signals it generates that indicate to Google & other search engines that your posts are helpful to users.
Extensive research conducted by CognitiveSEO revealed similar findings. They analyzed over 23 million social shares and discovered an equivocal connection between social media shares and SEO performance.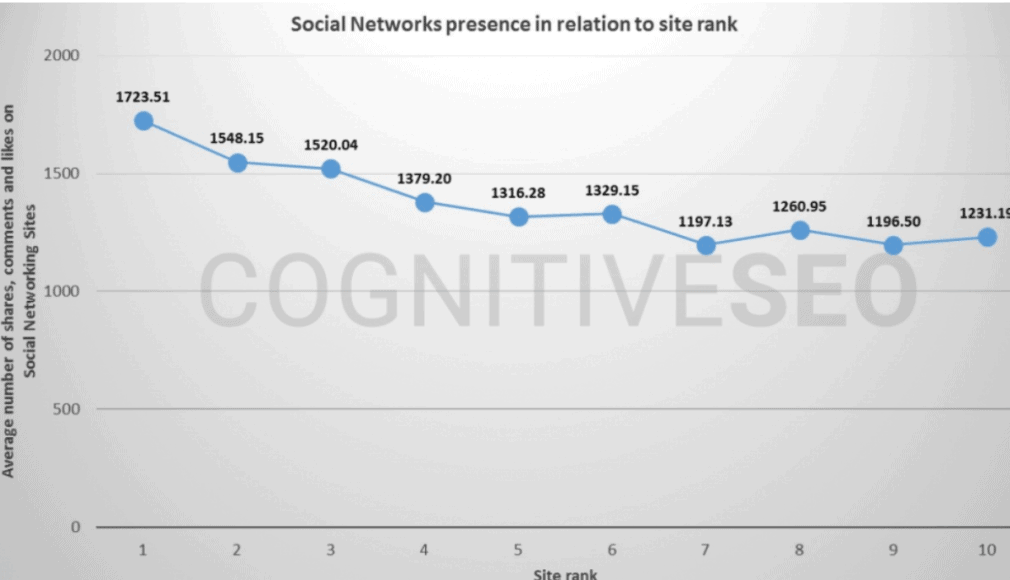 Image Source: CognitiveSEO
As you can see, the top ranking pages on Google SERPs are those that receive the highest social media shares, likes, and comments.
So, even though Google doesn't count the number of likes, shares, and comments as links from authority sites, the search engine does take them into account when ranking your website.
The bottom line is, social media success can influence your website's SEO performance, causing a positive effect on your search rankings and ultimately increasing the number of conversions.
And in this article, we've analyzed and created a list of the 15 best social media SEO tools that will help you increase your conversion rate.
What are the Best Social Media SEO Tools to Boost Conversion Rate?
If you're looking to increase conversions through social media SEO, here are the top 15 tools you should be using.
1. Bulk.ly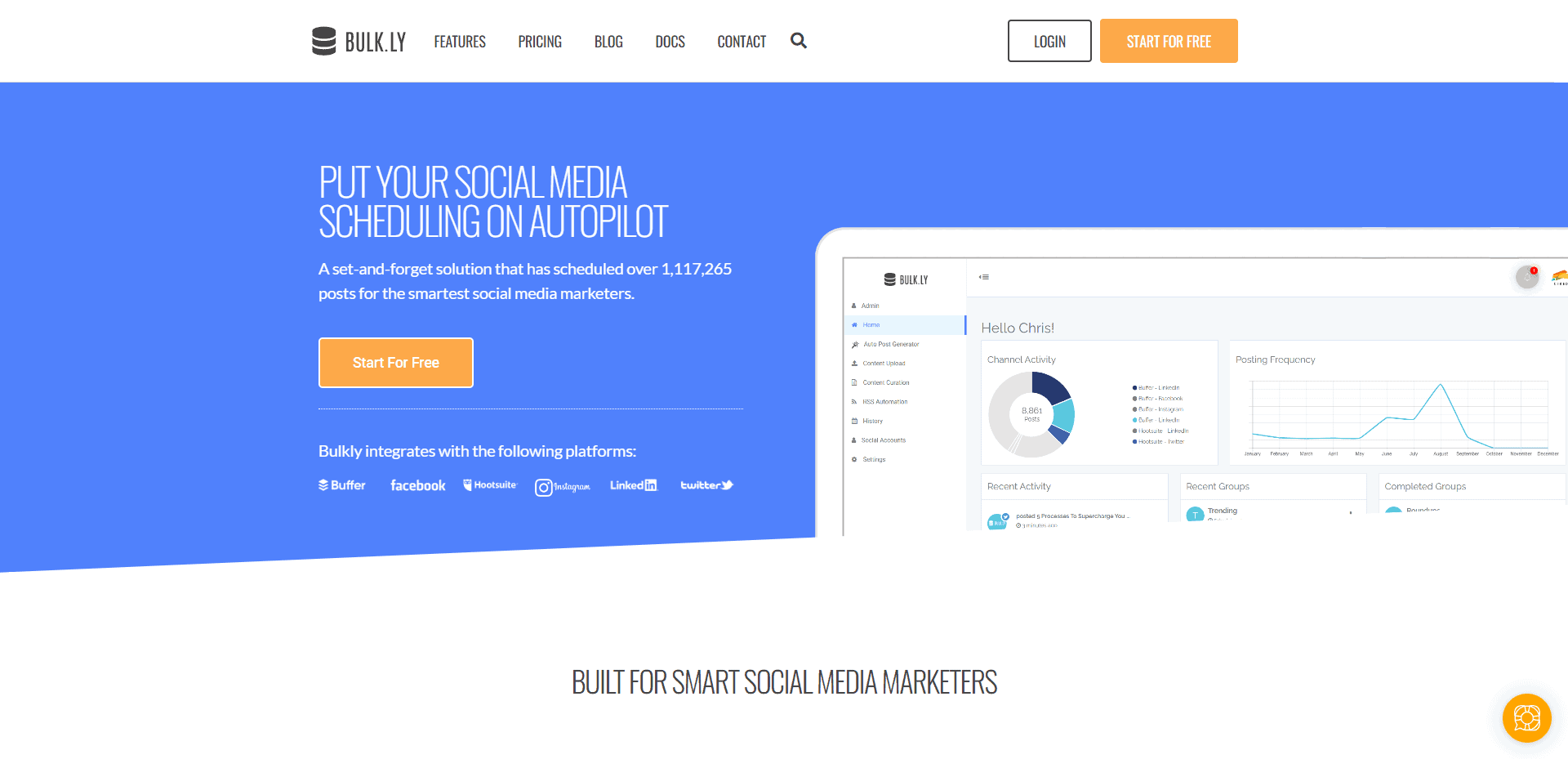 Bulky is a popular social media automation tool that's extremely useful for online businesses and marketing professionals. It comes with a wide range of features for creating and planning updates in bulk on major social media platforms by uploading CSV files.
To start using Bulkly, just create your account, connect it to your chosen social media platforms, and it will create a variety of updates from the submitted blog post URLs. Not only that but the tool will also automatically attach images from blog posts to your social media posts.
Furthermore, you can also change the order of your updates to be posted and set start & end dates among other features.
2. Ahrefs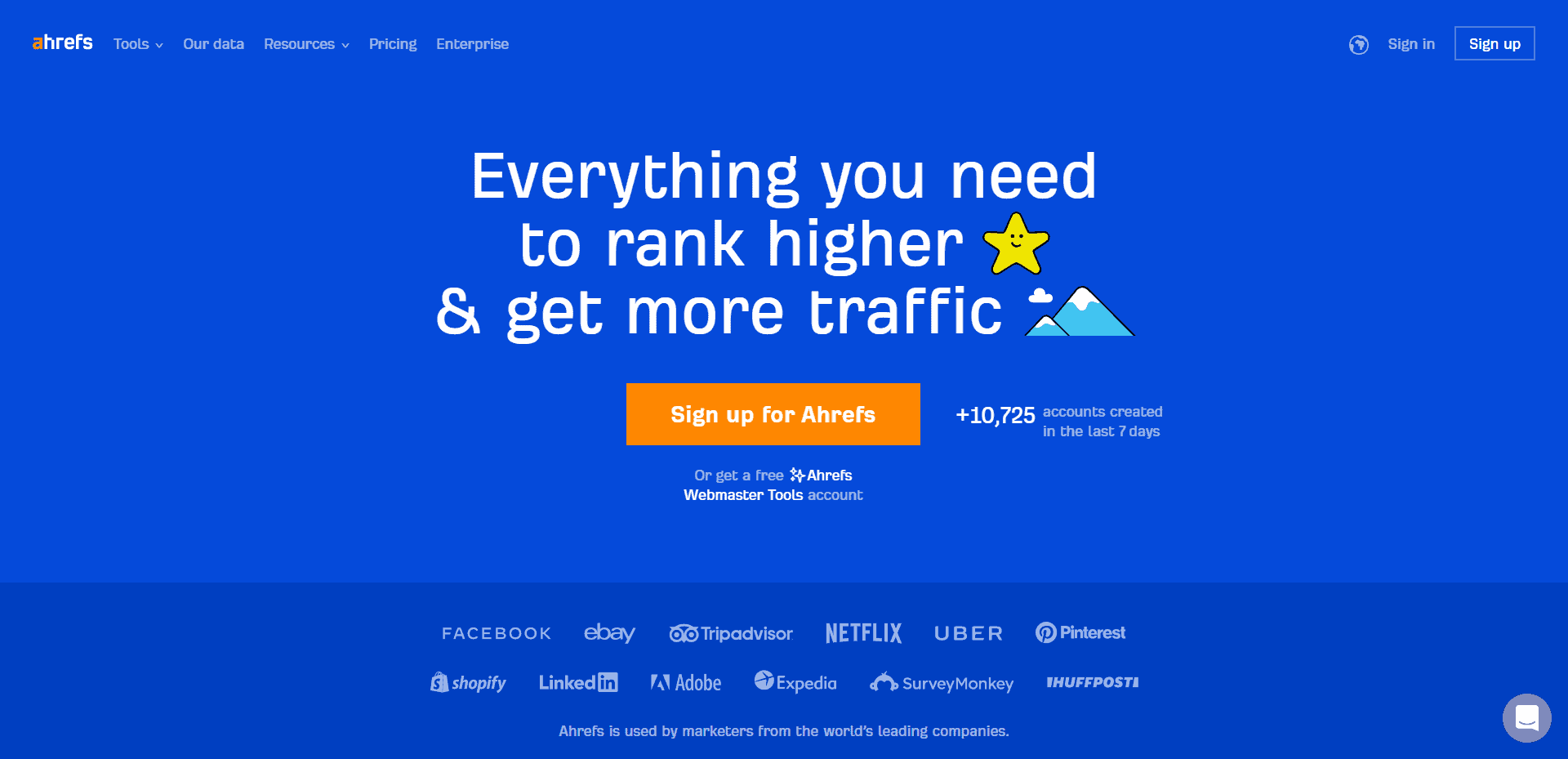 Ahrefs is a professional, all-in-one marketing suite that helps to conduct competitor analysis, keyword research, backlink audit, and much more.
The tool specializes in providing a thorough understanding of keywords and detecting keyword gaps to discover which keywords are relevant to the target audience. And since keywords are the driving force of social media marketing, Ahrefs can provide you with accurate topics and themes for creating social media posts that have high chances of trending.
3. Buzzsumo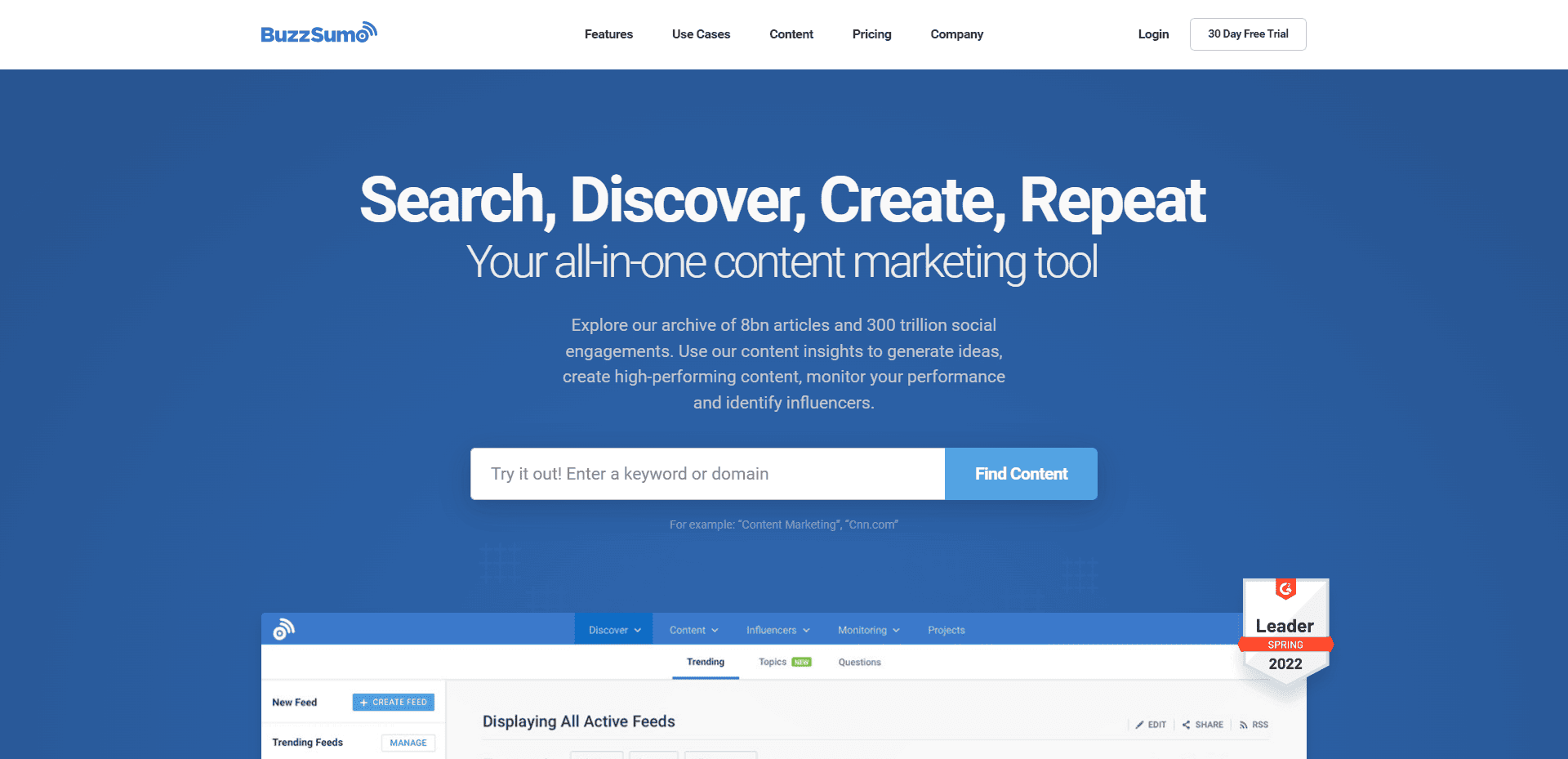 Buzzsumo is famous for helping countless companies increase conversion rates by optimizing the content on all platforms. The tool helps to come up with new content ideas and lets you optimize your content marketing campaigns for maximizing conversions.
Buzzsumo also has a powerful monitoring feature that lets you track brand mentions to keep you up-to-date with the latest trends in your industry. Additionally, the feature reveals what type of content resonates best with your target audience in the industry.
4. Rank Ranger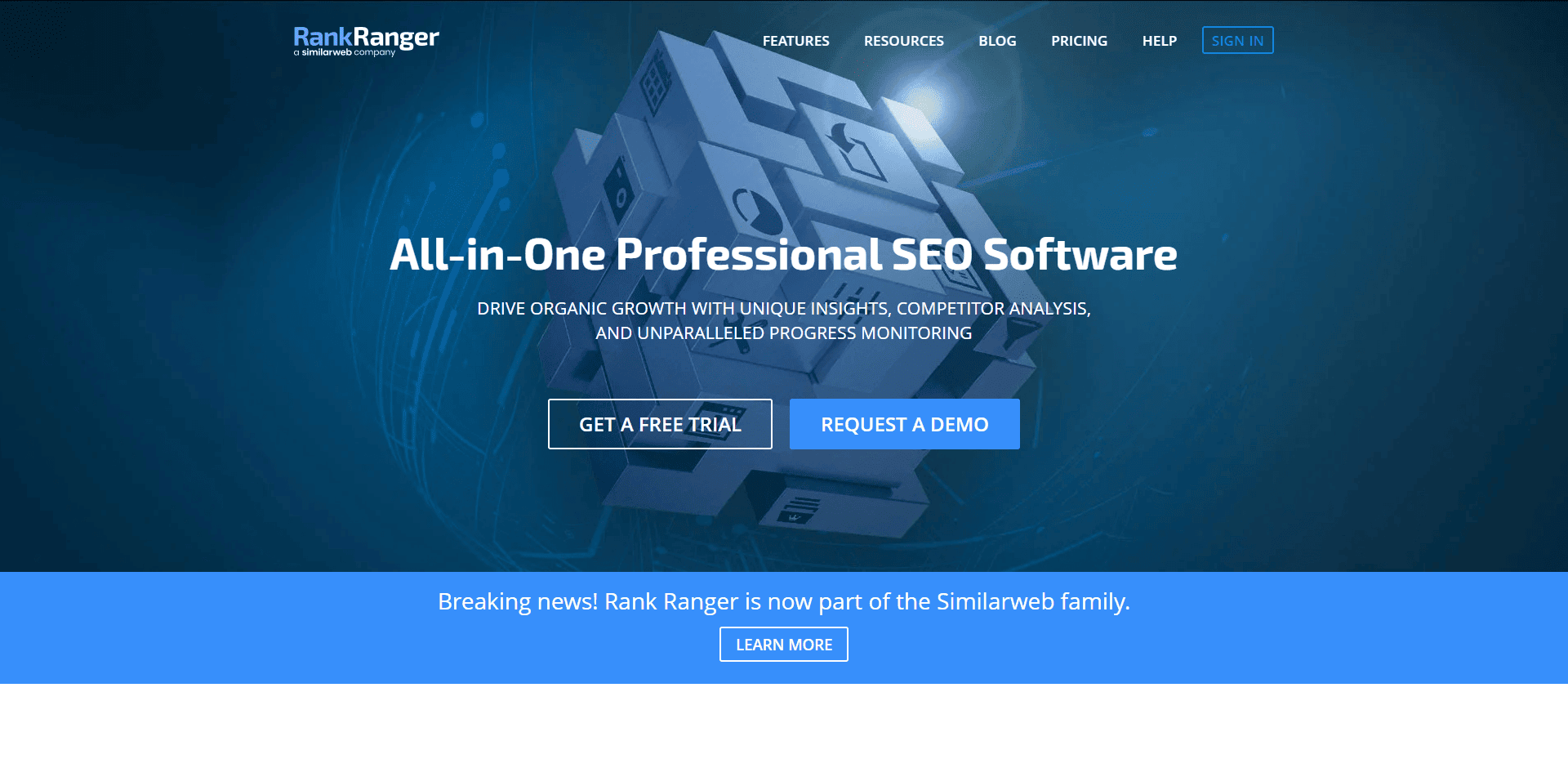 Rank Ranger is primarily a keyword tracking tool that allows you to track the position of keywords that your website is ranking for.
Aside from monitoring keyword rankings, Rank Ranger also has a feature to monitor the engagement of your company's social media profiles. The feature provides you with detailed insights on clicks, visits, page views, and other relevant information you can leverage to maximize your social media marketing results. Zutrix Rank Tracker is good option if we talk about good Rank Ranger alternative.
5. Sprout Social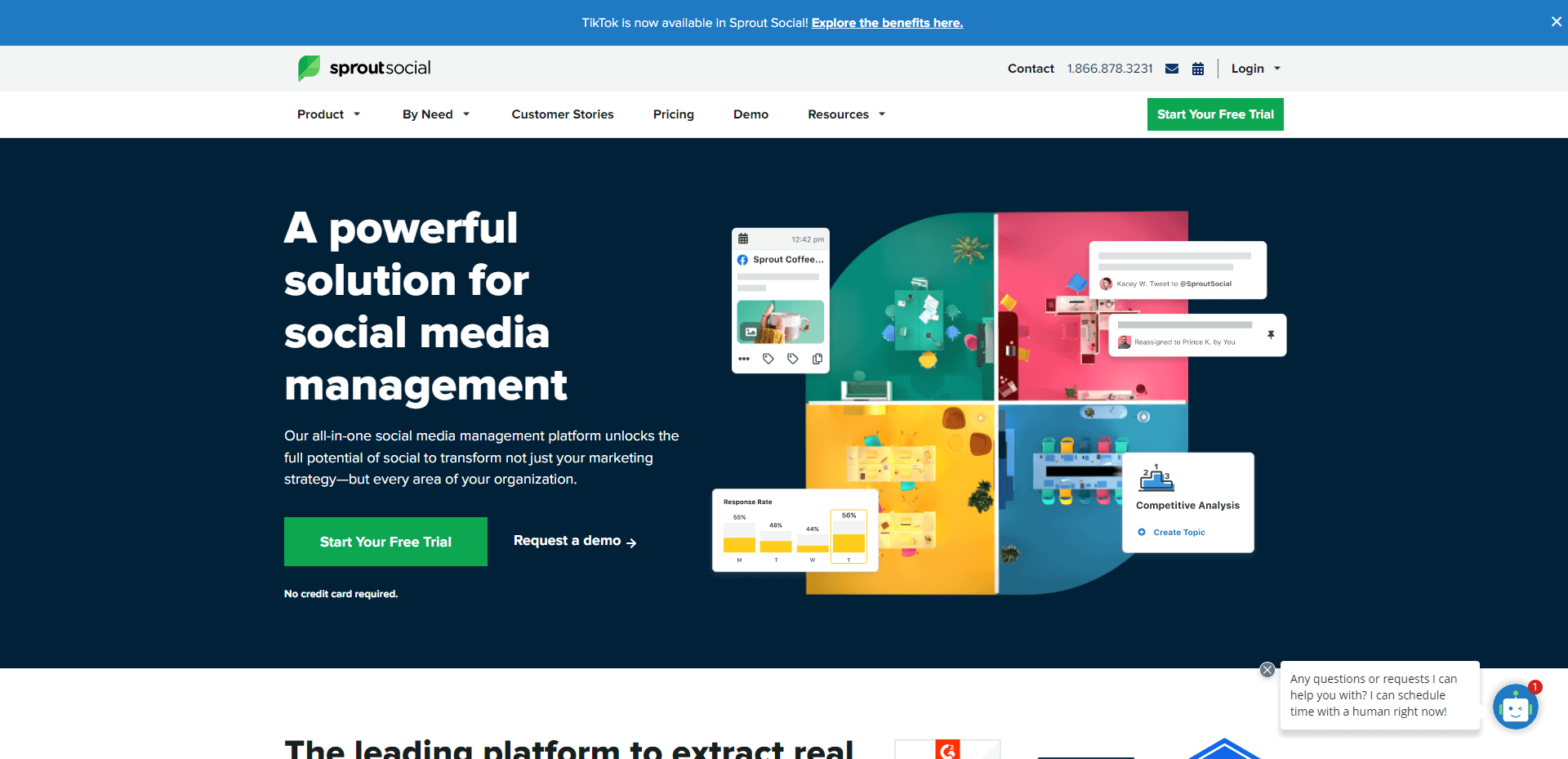 Sprout Social is a social media management tool that helps marketers and businesses to organize their content calendar and its assets in one place. It is bundled with a plethora of features that lets you schedule and publish social media posts across multiple social media platforms.
The main USP of Sprout Social is that it times all your social media posts to perfection based on when the majority of your followers are active on the various social media platforms.
Besides this, the tool's social listening feature helps you uncover highly-relevant trends, hashtags, and opportunities to engage with your followers and increase conversions.
6. Landscape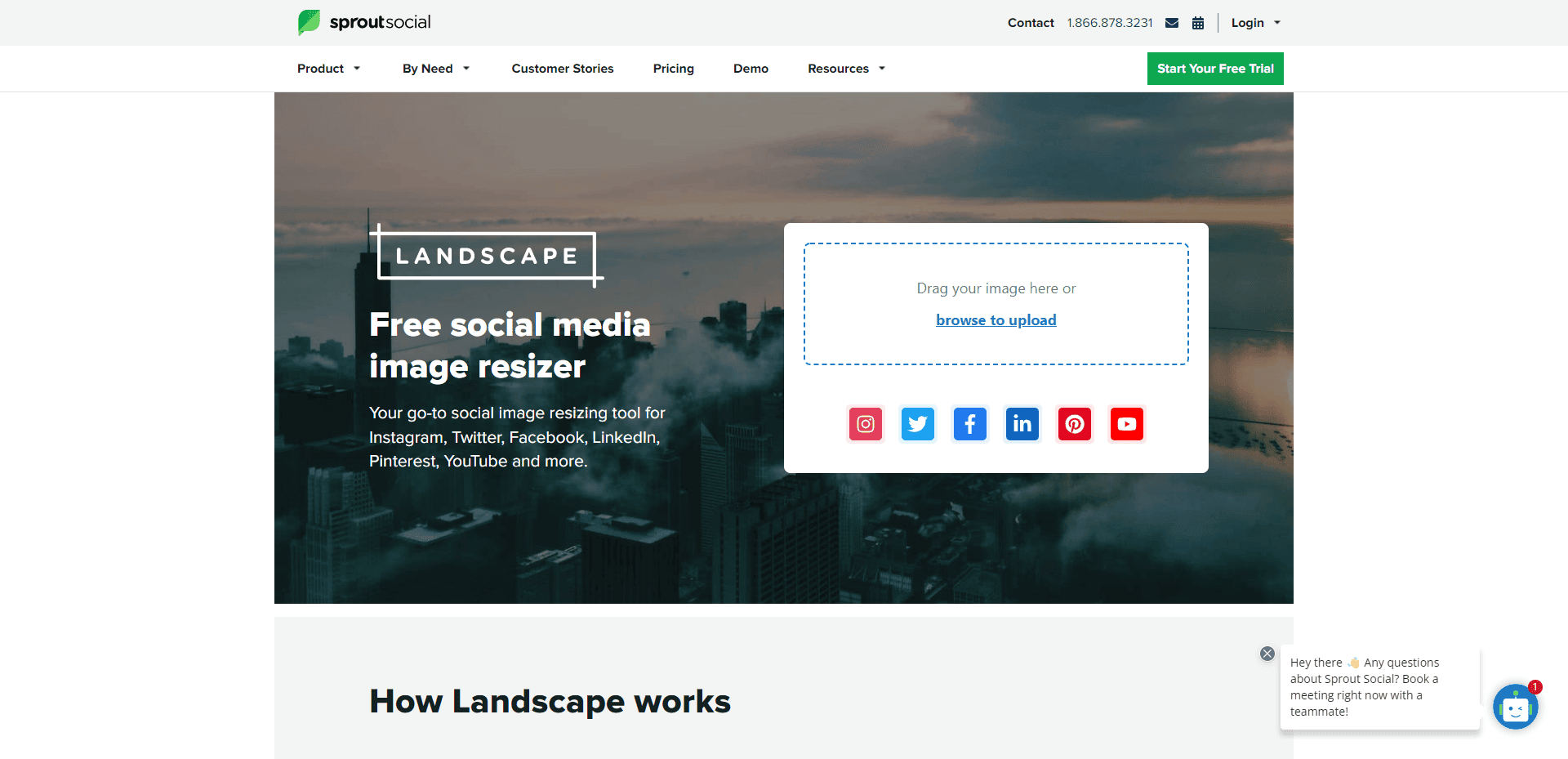 Landscape is a free social media image resizer tool developed by Sprout Social.
As you may already know, images are the backbone of social media posts. They help to elevate the views, likes, and overall performance of any post on social media.
Research conducted by Quick Sprout revealed that social media posts paired with images drive 94% more views than posts without images.
However, it is equally important to optimize your social media images appropriately to generate positive results. Here's an image optimization checklist to learn how to repurpose your social media content for image-rich posts on your website.
7. Audiense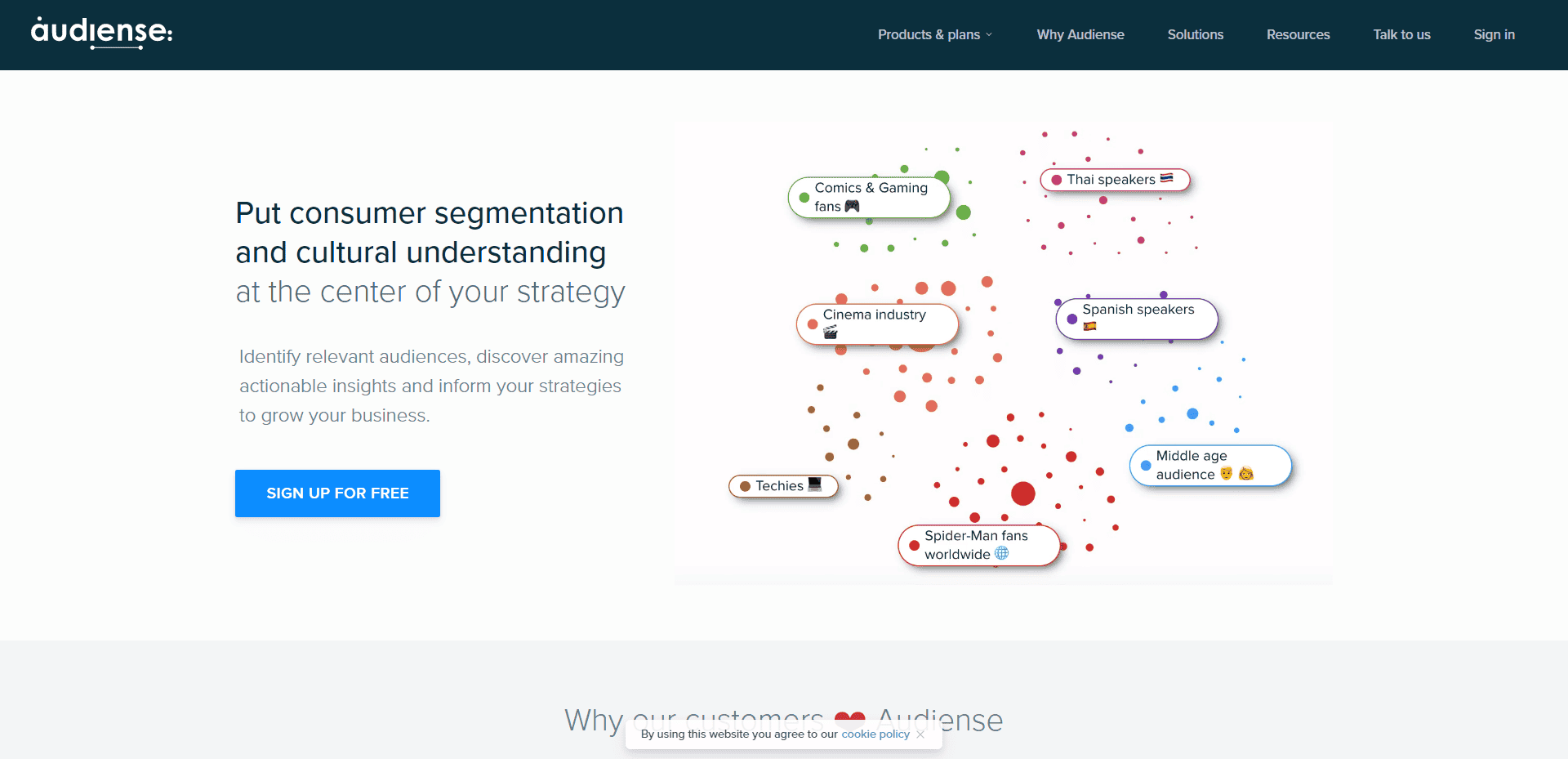 Audiense is a famous social listening tool that helps businesses and marketers to identify the latest trends among target customers on social media platforms.
While there are lots of tools that offer the social listening feature, Audiense is a tool specifically built for this purpose. Put it simply, the tool takes social listening to the next level. It identifies and segments the social media audiences, making it easier to execute laser-targeted social media campaigns.
This, in turn, helps to maximize engagement, website visits, and conversions as an end result.
8. Oktopost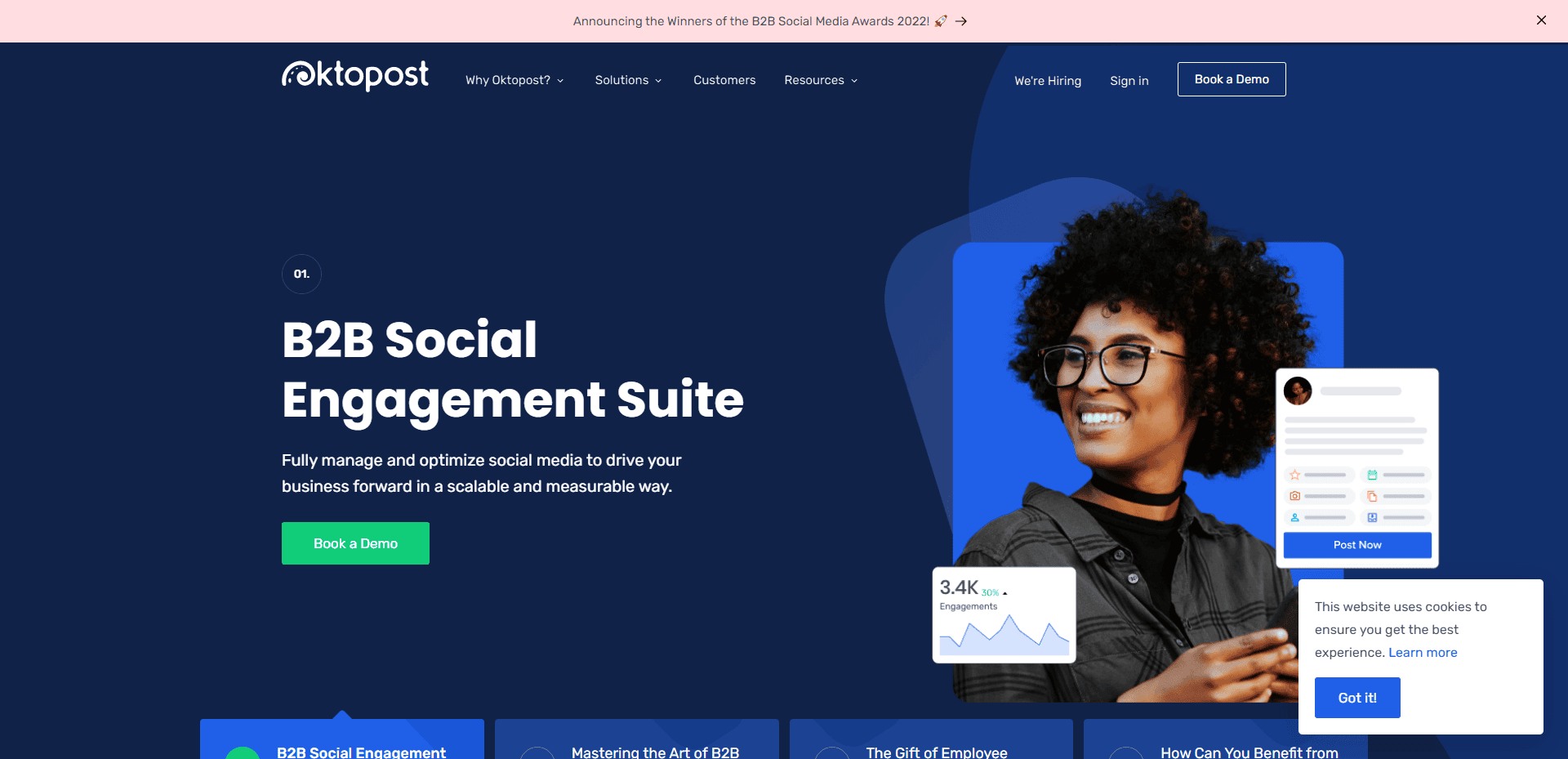 Oktopost is another social media management tool that is designed especially for B2B companies to generate qualified leads from social media platforms. Using this tool, you can schedule and share your content on different social platforms and monitor its effectiveness.
Furthermore, the tool also keeps a tab on your overall social media marketing campaigns and generates a detailed report on clicks, visits, and conversions for each post. Besides, it also looks for the most shared post with your target audience and keeps them engaged consistently.
9. SE Ranking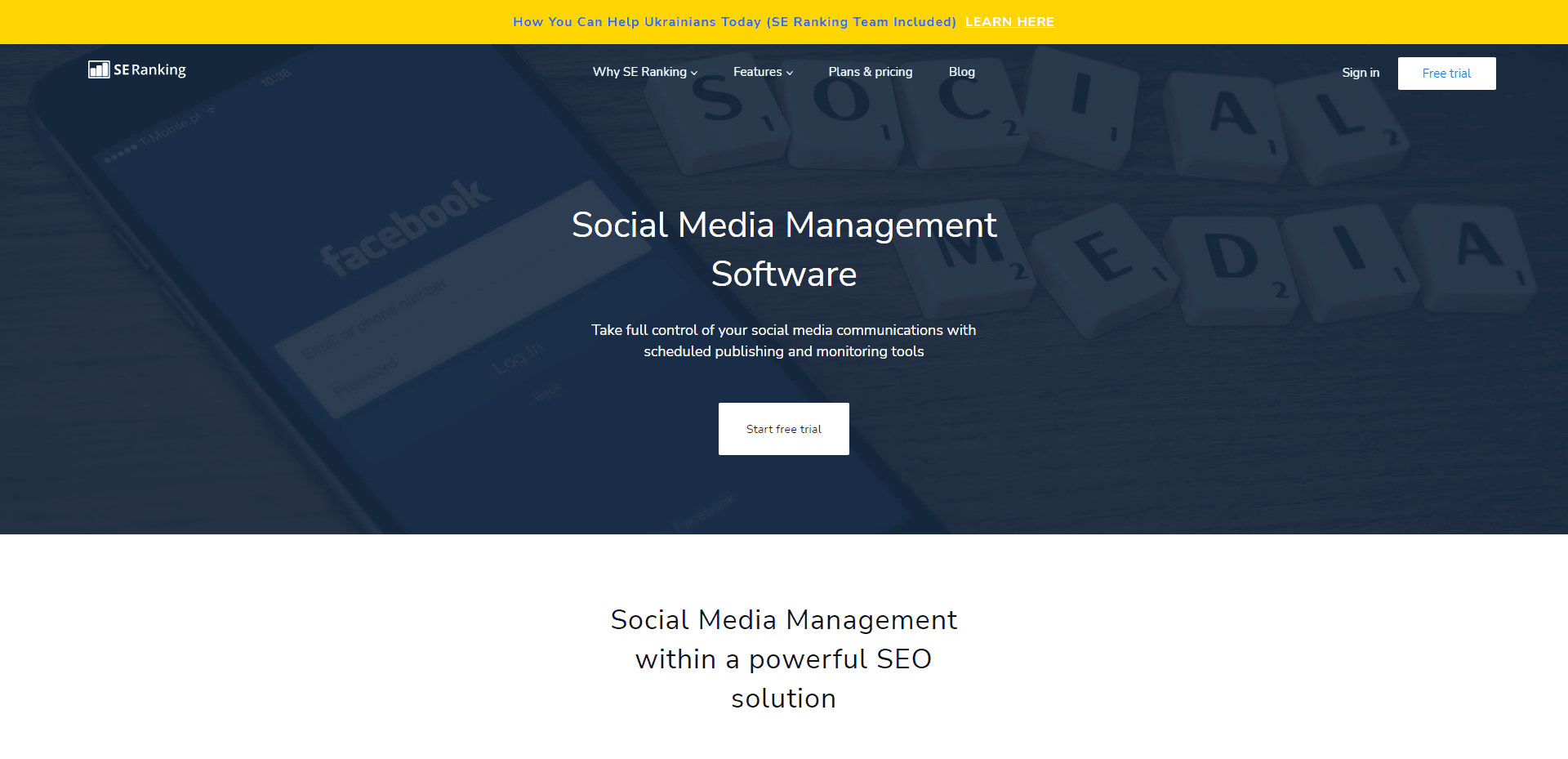 SE Ranking is an all-in-one advanced SEO tool that comes with a broad range of features, including social media management. The feature allows you to schedule your posts, generate a comprehensive performance report, and obtain ranking data to discover what's working and what's not.
But the best part of this tool is that it lets you auto-schedule all your social media posts along with relevant images. Furthermore, you can even see how your social media posts are affecting the overall SEO metrics of your website.
10. Hootsuite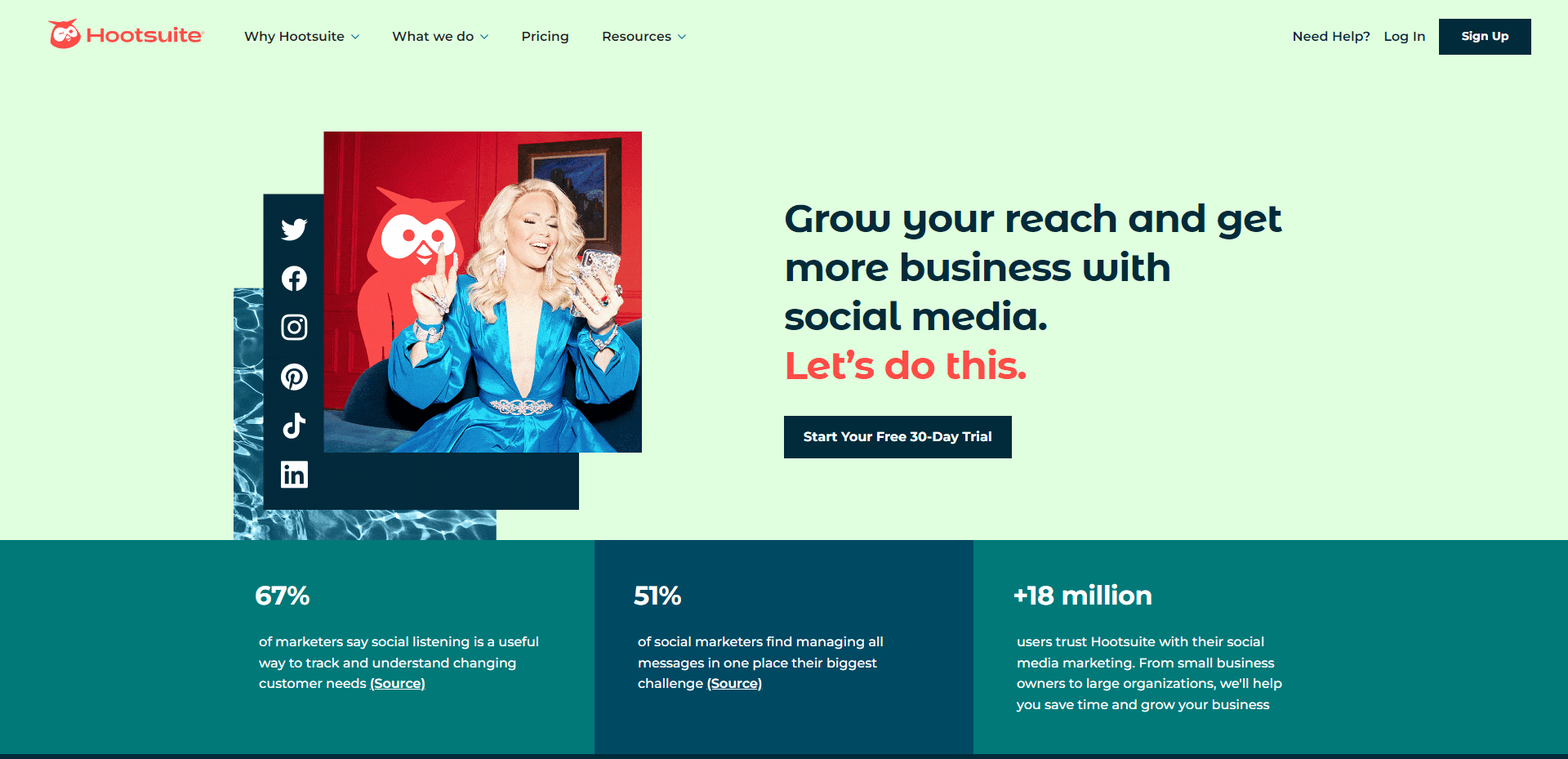 Hootsuite is a popular & widely used all-in-one social media tool that allows you to track your customers and understand their sentiment as well as engagement towards your brand.
The tool is compatible with more than 20 social media platforms including the popular ones such as Facebook, Instagram, Twitter, Pinterest, Youtube, and so on. Using this tool, you can schedule your posts in advance as per your chosen timings.
Alternatively, you can also use the Auto-schedule feature that automatically schedules all your posts at the most optimal engagement times.
Besides this, analytics is one of Hootsuite's strongest areas. The tool basically measures the performance of your previous social media posts and generates reports by drawing over 200 metrics to provide you with actionable insights.
11. Crowdfire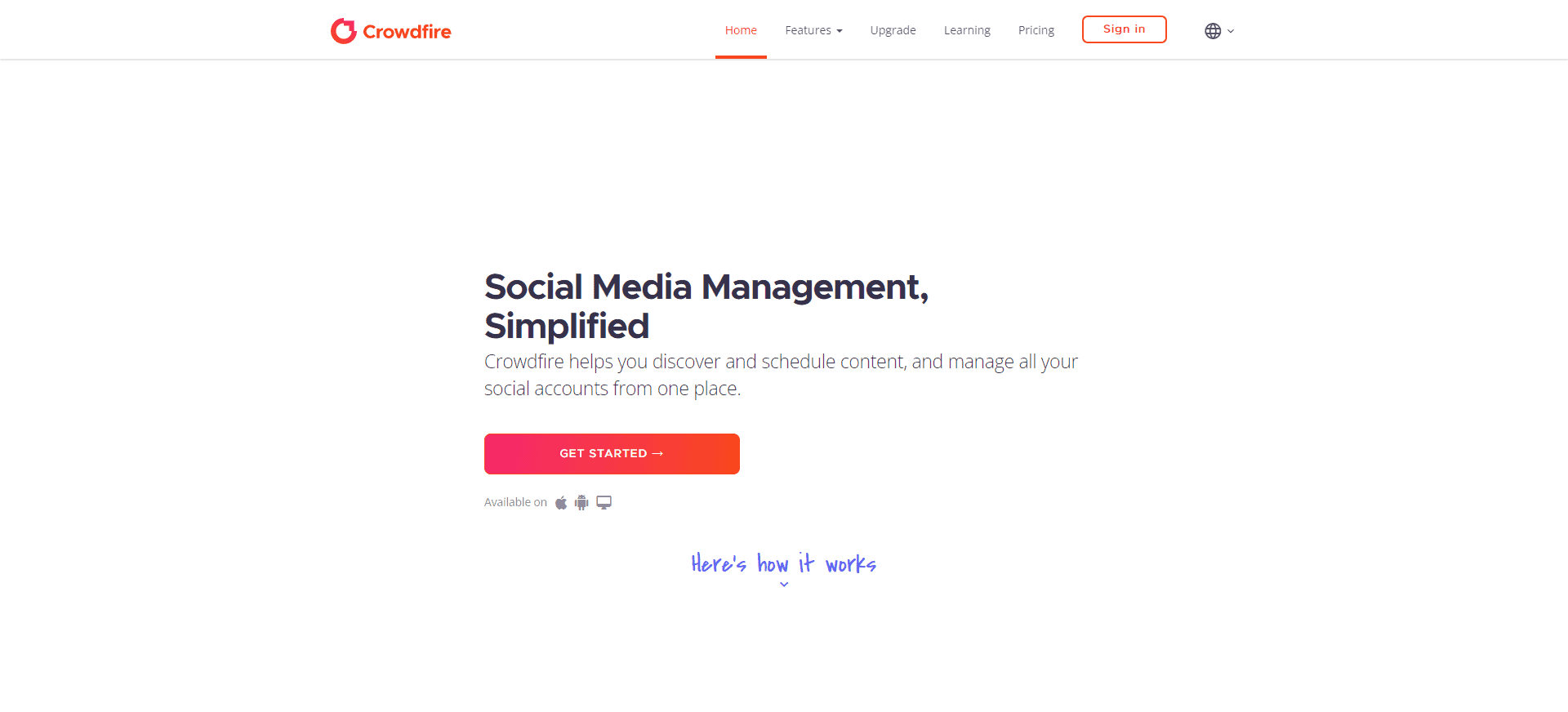 Crowdfire is a powerful social media tool that lets you discover, curate, and schedule content that drives engagement and conversions.
You can connect Crowdfire with Facebook, Instagram, Twitter, LinkedIn, WordPress, Youtube, Pinterest, Medium, and many more social media platforms.
The tool lets you manage all your social media accounts in one place. Other than that, you can even keep track of conversations, curate images approved by their creators, and schedule posts to be published at the most optimal times.
12. Tweepi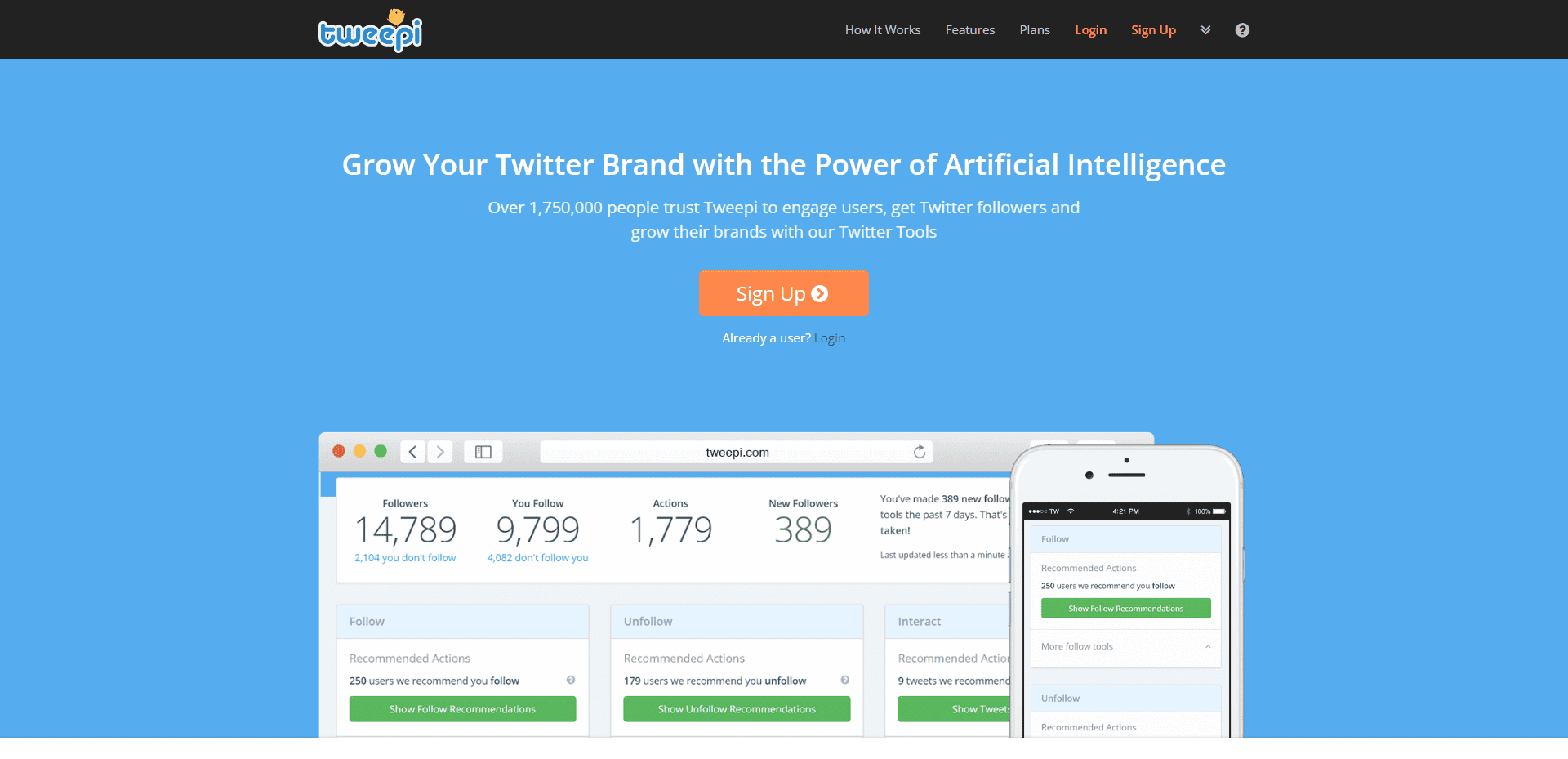 Tweepi is a Twitter tool that is primarily built to help you get more Twitter followers. It is integrated with Artificial Intelligence (AI) to find the best tweets and accounts to engage with.
To get started, sign up on the tool, and set up your account with @users and #hashtags relevant to your target audience.
Next, let the AI discover the users who are likely to follow you and start engaging with those users to convert them into your followers and ultimately your customers.
13. Social Champ
Social Champ is a social media scheduling tool that allows you to post your content on all platforms at once. Apart from that, the tool is equipped with numerous automation as well as integrations to help you with your social media content.
If you're a beginner who is looking for an easy-to-use social media scheduling tool to promote your content, Social Champ is highly recommended. The user interface of this tool is extremely easy to understand and navigate through. Plus, the customer support service is fairly responsive and solves almost any queries you may have in no time!
14. Tailwind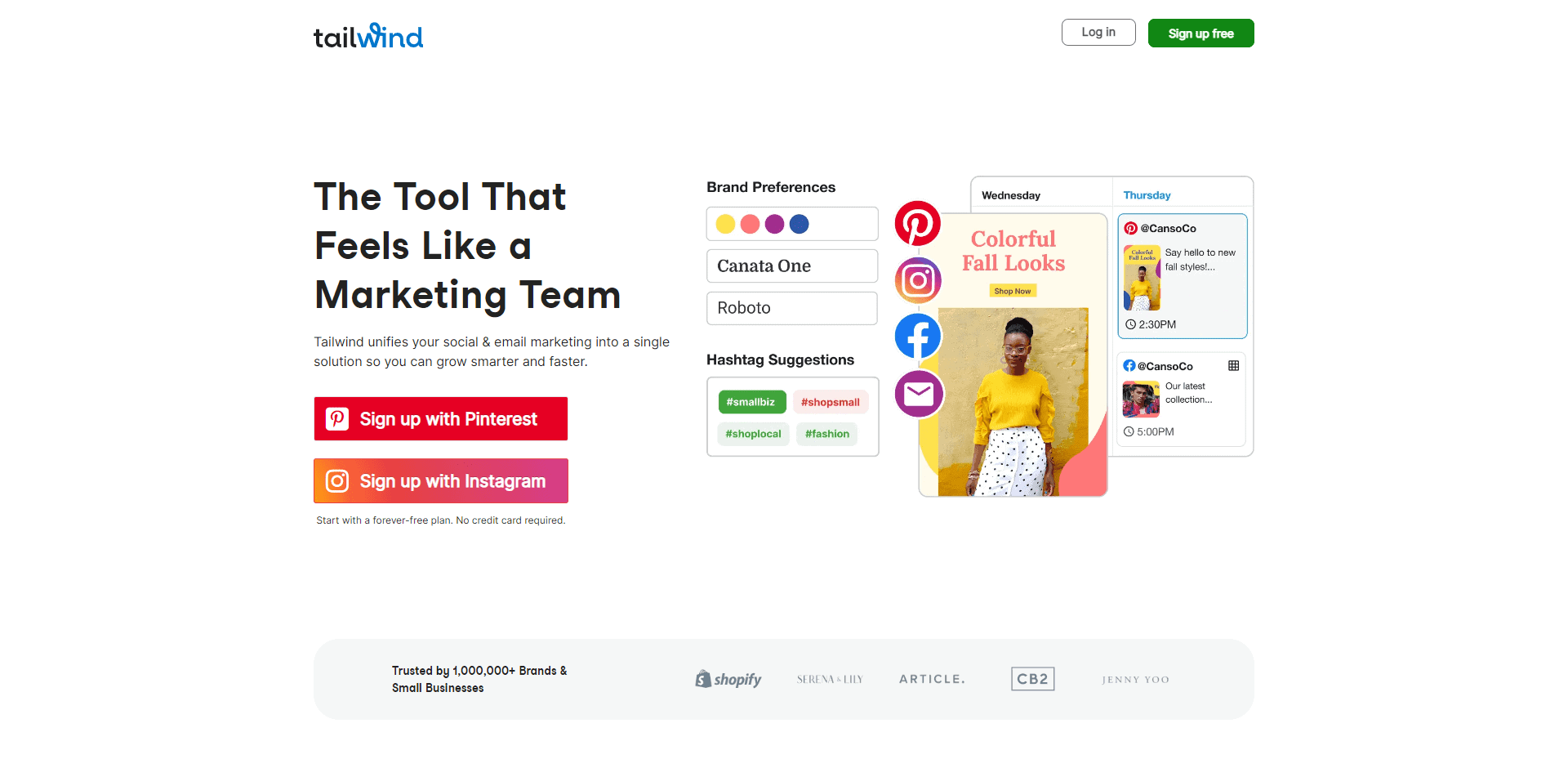 Tailwind is popularly regarded as the smart social media marketing assistant that helps to automate social media planning, designs, scheduling, and analytics on Instagram & Pinterest.
The tool is equipped with a powerful relevant hashtag finder feature that takes out the guesswork and finds you the most popular & hyper-relevant hashtags for you.
It even transforms simple images into beautiful social media posts, suggests the best time and occasions for your business to post, and even publishes your content automatically at optimal times for you.
15. Mention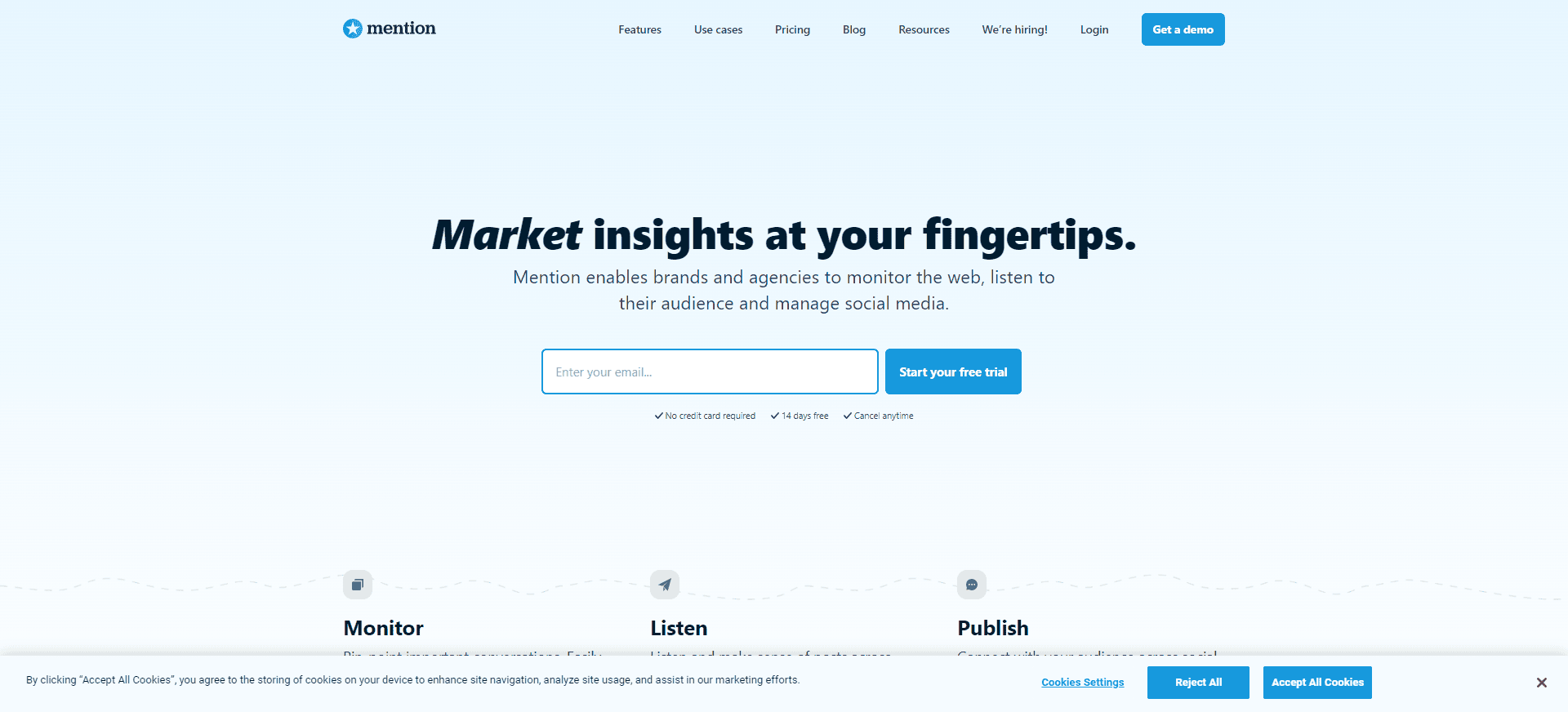 Mention, as the name suggests, is a social media listening tool that helps you to monitor all mentions of your brand, products, and the mentions of your competitors in real-time & at one place.
Monitoring social media mentions has proven to be quite useful for countless businesses all over the world. For starters, it lets you respond to social media mentions and comments.
Plus, the tool makes it quite easy for businesses to find the right influencers in their industry, collaborate with them on an influencer marketing campaign, and boost the overall engagement, visits, and conversions.
Best Social Media SEO Practices to Increase Conversions
Driving conversions through social media platforms can be challenging. But social media platforms can definitely play a significant role in driving qualified leads and conversions to your website, especially in its early days.
For some reason, if you're not seeing any results on your social media profiles even after using these tools, it may be worth learning the best social media SEO practices shared below.
More Quality Backlinks
As you may already know, quality backlinks are one of the most important factors to attain top positions in Google SERPs. The quality and number of backlinks directly impact the rankings of your website.
With social media SEO tools, you can connect with influencers and bloggers from your industry who might link to your website. For this, you must make your social media content engaging enough that is not only shared by your followers but also by the industry leaders.
In fact, a study has already proven that there is a direct correlation between the number of social media shares and the number of backlinks.
So, if you post engaging content on social media that garner plenty of shares, the more chances you'll have to earn backlinks that ultimately improve your search engine rankings, website traffic, and conversions.
Learn What Your Customers Want
Social media is a goldmine for businesses that truly want to learn what their customers need.
For instance, let's say that you're a small eCommerce store owner and the majority of your customers praise your product quality.
But at the same time, if you also receive complaints about the delivery speed, then it's a clear clue that you need to outsource the delivery aspect to a micro fulfillment center.
The lesson here is, learning what your customers want can help to discover many areas of improvement in your business. This is supremely important because it gives you a golden opportunity to solve the issues faced by your customers.
Resonate with your Target Audience
As discussed just now, once you figure out customers' pain points, you must come up with ways to resonate with them and provide a superior solution. There are various tools from the above list that can help you discover what people really need from your business.
Check out the topics of the posts that are stirring the maximum engagement from your target audience and plan your upcoming social media posts on and around those topics.
This way, you can easily contribute valuable information, join the global conversation, and make your mark in the eyes of your target audience on social media platforms.
Final Words on Social Media SEO Tools
With the right set of tools and social media strategy, you can most certainly increase conversions through social media SEO. In fact, any combination of the above-mentioned tools can serve a solid social media marketing campaign.
So, go ahead and test-drive some of the tools from this list and see what works for your business and your budget. Whichever tools you finalize, make sure they can measure your social media content performance based on your business goals.