If your Buffer account is connected to Bulkly, each of your groups will drip content to your Buffer account based on the schedule you set in Bulkly. It's important to note that by default, Bulkly simply adds the post to the next available spot in your Buffer queue. Your Buffer queue posting times are setup directly in Buffer.
And every group in Bulkly has its own individual schedule separate of your other groups.
Here's what you need to know about scheduling on Bulkly.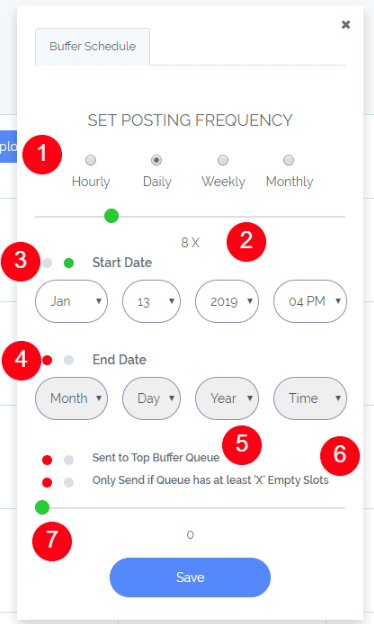 Bulkly allows you to drip content of the group hourly, daily, weekly or monthly
Then can choose how many times per hour, day, week or month to send an update
By default, your group will start sending as soon as you activate it. However, you can tell Bulkly to wait until a certain date and time before sending content from this group
You also have the option to have the group stop sending content at a certain date and time. This is disabled by default in order to have updates continuously send based on your frequency settings
For Buffer, you can have Bulkly send your updates to the very top of your queue. If disabled, your status update will be added to the end of your queue
Additionally, Bulkly can be setup to only send an update from this group to Buffer if there are a minimum amount of spots available in your queue
If you enabled the empty slots option, you can then use the slider to determine the number of spaces needed in your Buffer queue in order to send a post from Bulkly