The Twitter platform has evolved in many ways. It is now a reliable business marketing tool. More than 75 percent of B2B enterprises rely on the best Twitter tool as a platform to connect with customers in real time.
But, the nature of tweets makes them short-lived, lasting only around 48 minutes as new tweets take their place. In an attention economy as ours, fresh content tweeted as and when due, is now a requirement.
There are multiple reasons why brands such as Paper Writing Pro, include Twitter into their marketing equations. They can participate in industry-related conversations, improve brand visibility, or talk about product updates.
Yet, using Twitter is more than mere conversations. It's convenient, but it's not exactly easy to use or manage. Hidden gems are lurking in there that, thankfully, we can use to calculate social ROI. That's where Twitter analytics become valuable, offering brands vital insights into their follower base and the competition.
Analytics is often a function of the tools we use. It's the reason why we've chosen to review the best Twitter analytics tools to improve your overall Twitter marketing strategy and help make your brand more visible.
#1 Brand24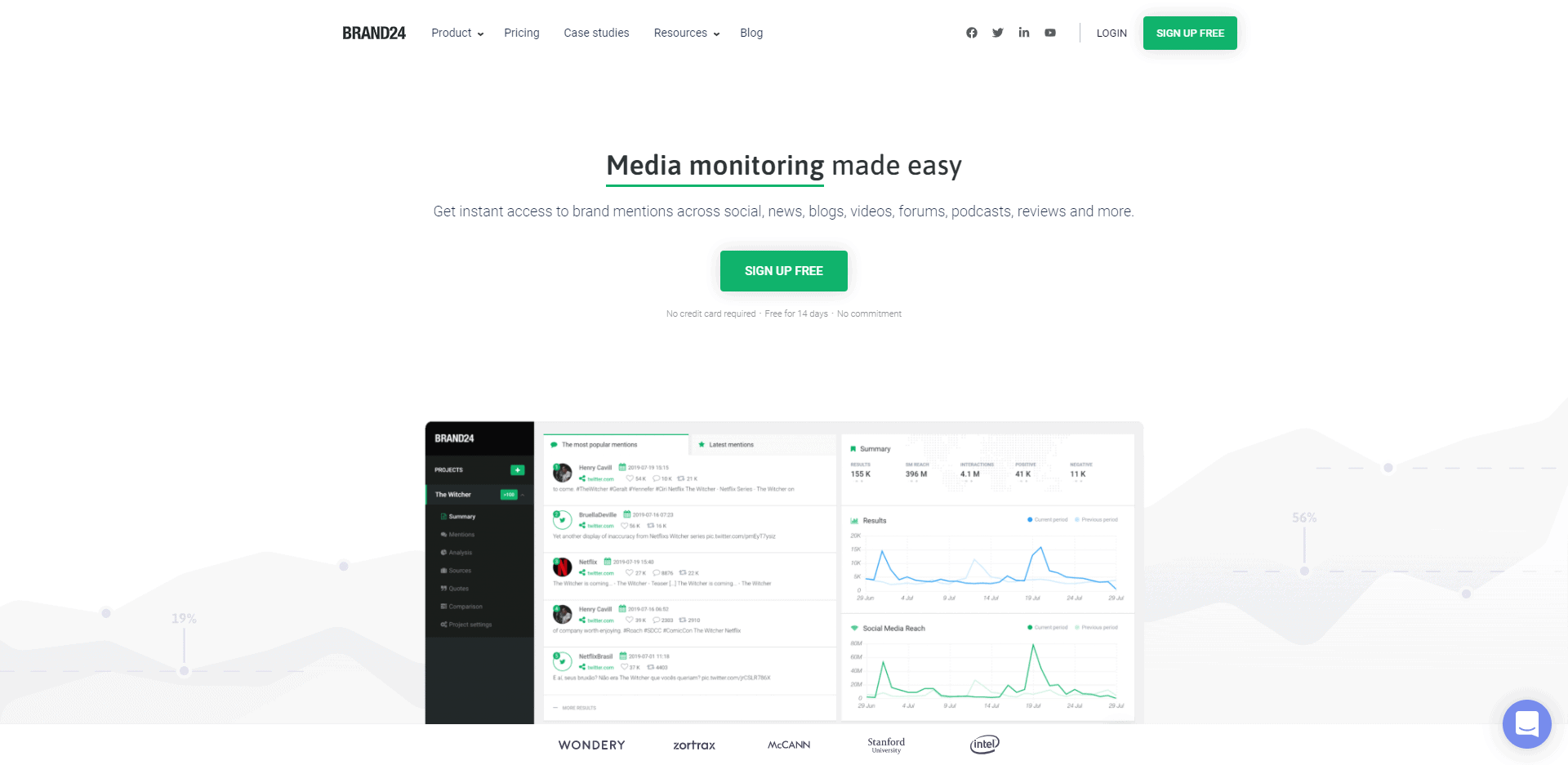 Brand24 is quite popular and is one of the best tools for Twitter, having a perfect rating for tracking hashtags and social listening. You'll also be able to reach out to customers instantly or research your next campaign by getting real-time mentions of your brand.
Brand24 provides every essential Twitter metric you want, including sentiment analysis, a list of trending hashtags in your niche, and makes it easier to find influencers.
While Brand24 is effective across several social media platforms, it has the rare ability to offer analytical insight into your social media campaign's scope, spread, and interaction, while measuring the influence of targeted keywords like "assignment writing services."
Now you can get detailed metrics and analytical reports on your Twitter strategy. You can also monitor in real-time how your content is performing and identifying the appropriate keywords to improve engagement. The user can identify appropriate keywords and assess @mentions to enhance the scope of their social media campaigns.
User verdict
Current users rave about Brand24's attractive and intuitive user interface. The PDF reports help to consolidate data in one place. There's also great customer support – something you don't find with many other Twitter analytics tools.
What we think
For robust social listening and hashtag performance tracking, Brand24 is an excellent option. There's a 14-day trial, but plans start at $49/month.
#2 Followerwonk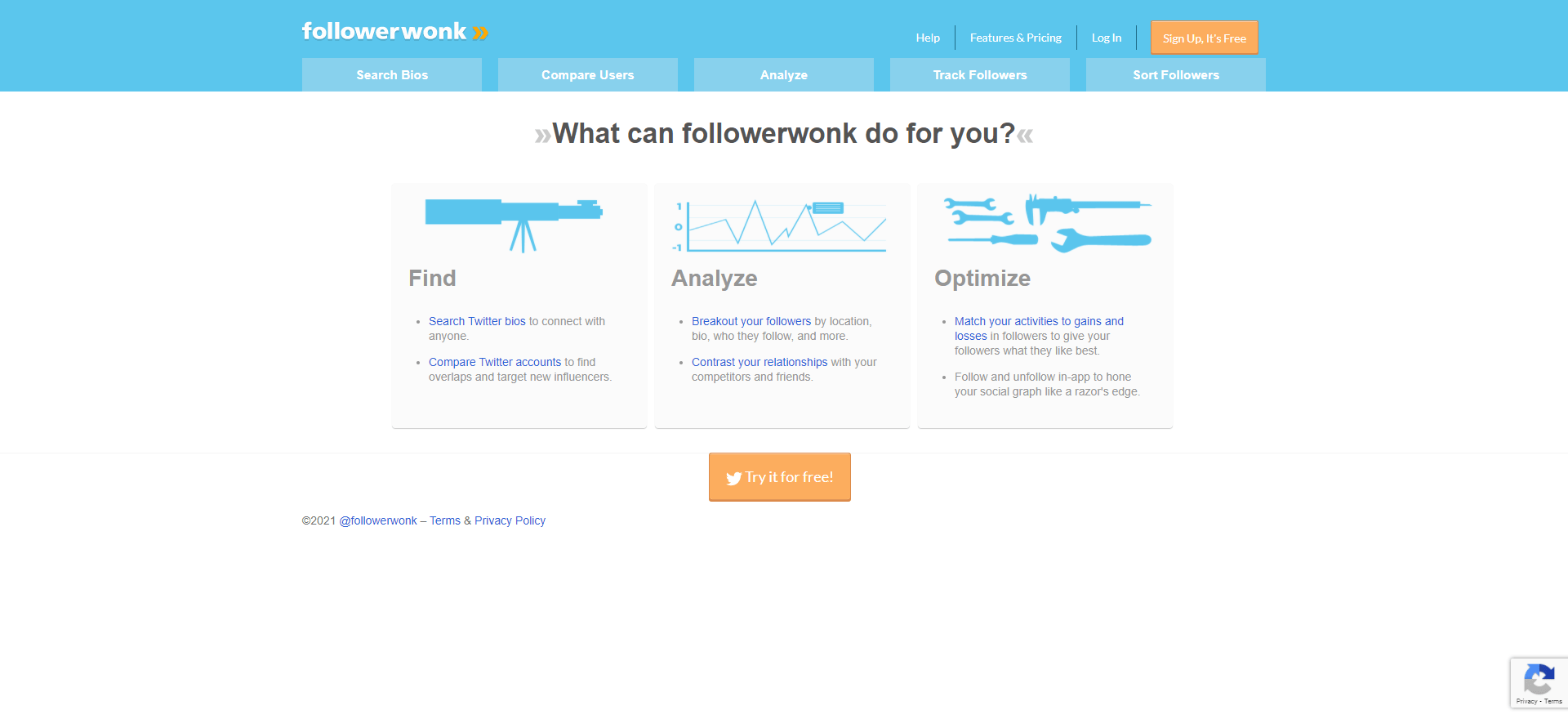 Followerwonk takes a different approach to Twitter analytics by focusing on your Twitter audience and not your tweets alone. Now you can tell who your followers are, their location, and when they tweet.
It also has a "Search Bios" feature that lets you find precisely what users to target. These users might be influencers for some Twitter outreach or marketing campaign.
With Followerwonk, you can assess your competitor profile and also learn how many followers you've lost or gained. There's even a graph of the difference in the numbers of followers. The graph contains plenty of relevant detail you need for new campaigns.
User verdict
Users love to understand how other users think and are likely to act. This thinking is what's driving the increasing number of subscriptions to Followerwonk.
What we think
We recommend Followerwonk for businesses who want to understand their audiences well enough to be able to predict their next step. You can analyze one profile for free, but the paid version costs $29 a month.
#3 Hootsuite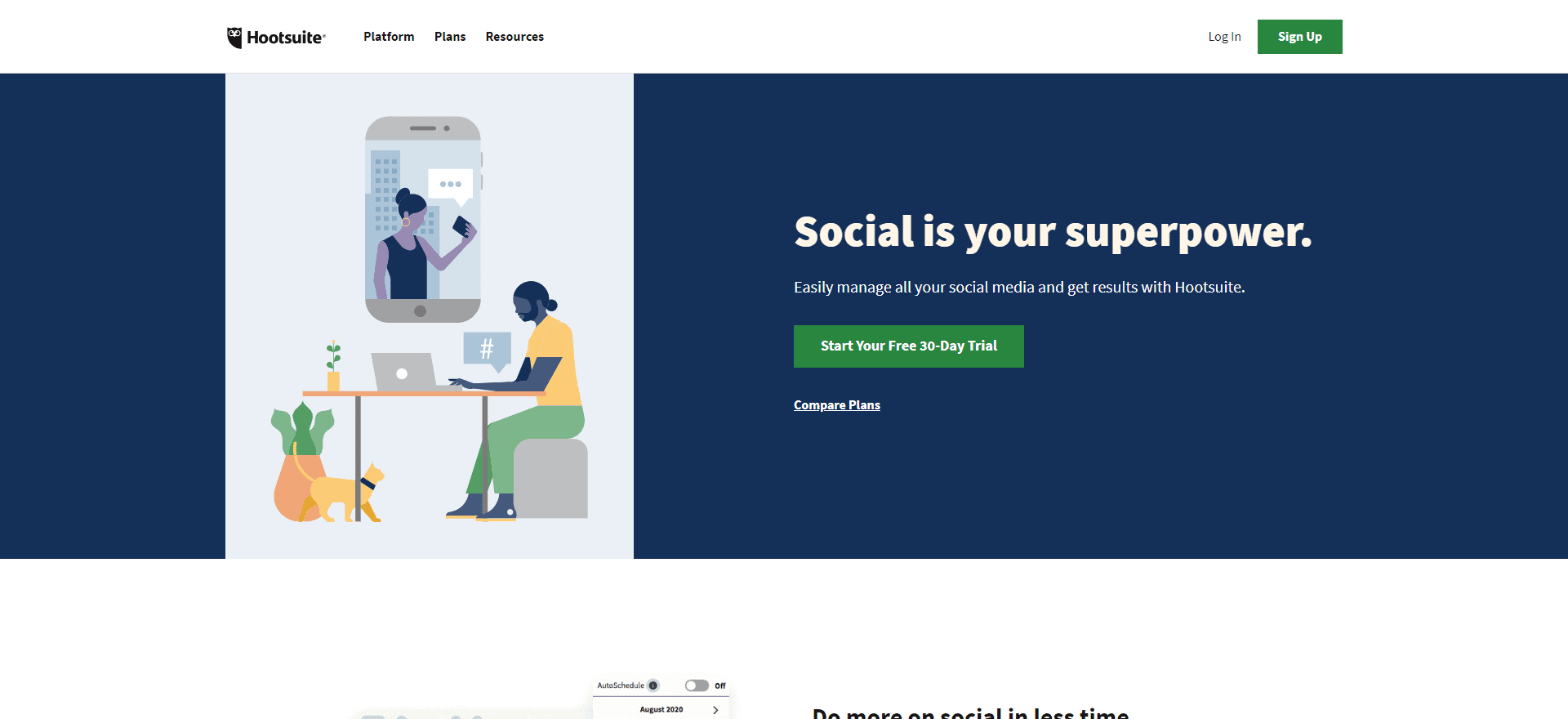 Hootsuite is the granddaddy of social media analytics tools. No social media analytics tools list is complete without Hootsuite. That fact is clear enough to anyone who's encountered social analytics on even a rudimentary level.
Hootsuite's analytics tools are full-stack, giving you options to schedule posts, discover new content to repost, and organize content in a shared content library.
But, it can help you achieve much more concerning Twitter analytics. You can monitor the performance of every tweet, create key reports, and monitor the performance of your content on Twitter.
Hootsuite is great for teams collaborating on campaigns across various social media channels – more than thirty-five.
User verdict
Over sixteen million users can't all be wrong. Whether it's for social media management needs such as publishing or scheduling or even creating customizable dashboards and reports, users enjoy the multi-channel capabilities of Hootsuite. They also love the ability to measure team performance and shield their Twitter and other social accounts from fraud.
When you launch a campaign, you can monitor it and get in-depth analytics on each tweet using Hootsuite. Users are also happy to have an easy way to identify the competition and see what Twitter lists they belong to. They enjoy the power, help, and popularity of Hootsuite.
What we think
Hootsuite is an excellent option if your team wants comprehensive analytic tools for Twitter to deal with multiple projects at once. It's only $19 per month, so it's affordable too. The ability of Hootsuite to integrate with more than 200 business applications makes it one of the best full-stack analytics tools on the planet.
#4 Keyhole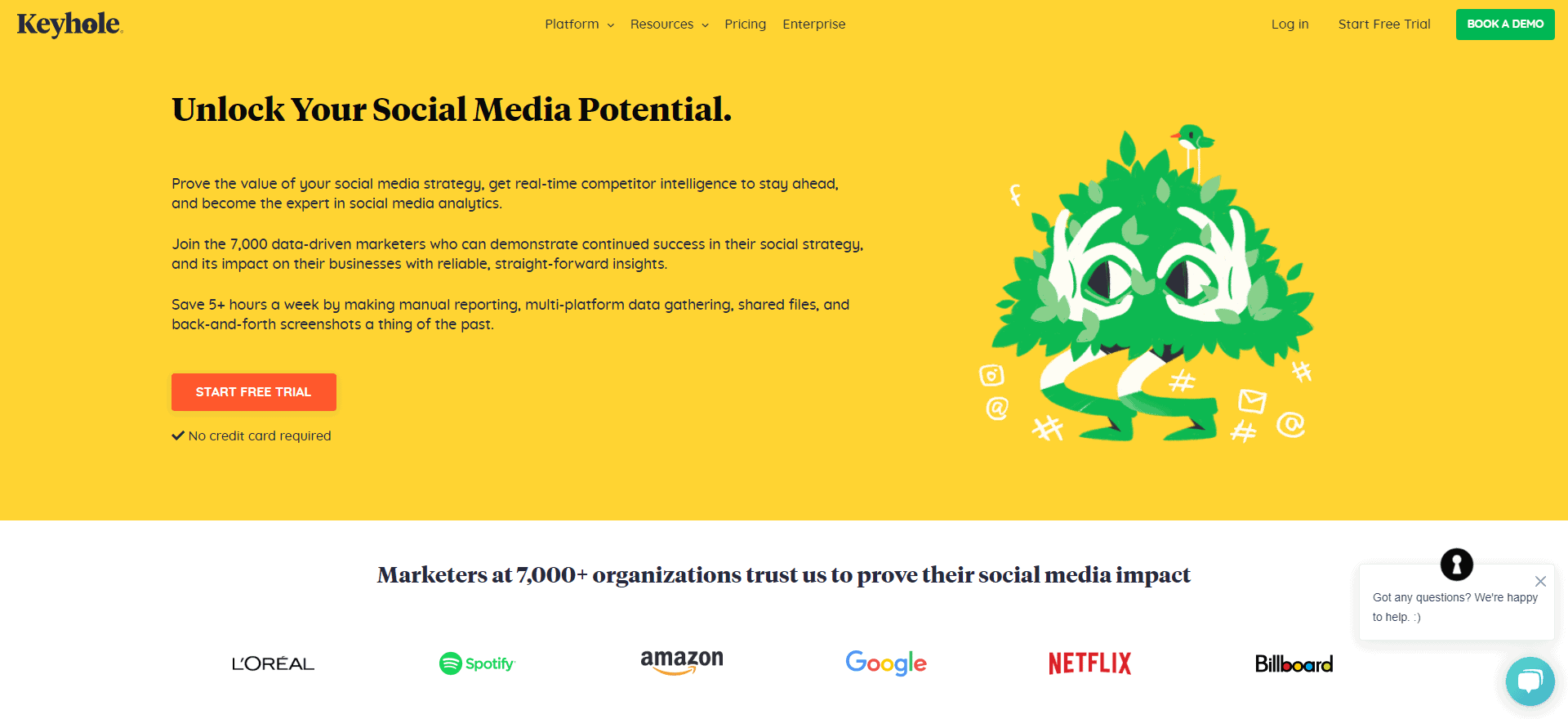 Keyhole is another Twitter analytics tool with a focus on data. Its in-depth reports and hashtag tracking enable users to track various social accounts, and it has smooth integration into a customizable dashboard.
With Keyhole, you can track tweets in real-time. This feature is essential to monitor brand performance and measure campaign effectiveness.
What else can you do with Twitter analytics? You can coordinate market research, learn the best times to tweet, and identify influencers in your niche.
User verdict
Any tool should be as easy as it is powerful. Users enjoy the ease with which they can track mentions and promotions. The dashboards are beautiful too, and the customer service is excellent.
What we think
Keyhole is popular for real-time tweets and hashtag tracking. There's a 7-day free trial period, with plans beginning at $44 per month.
#5 Mentionmapp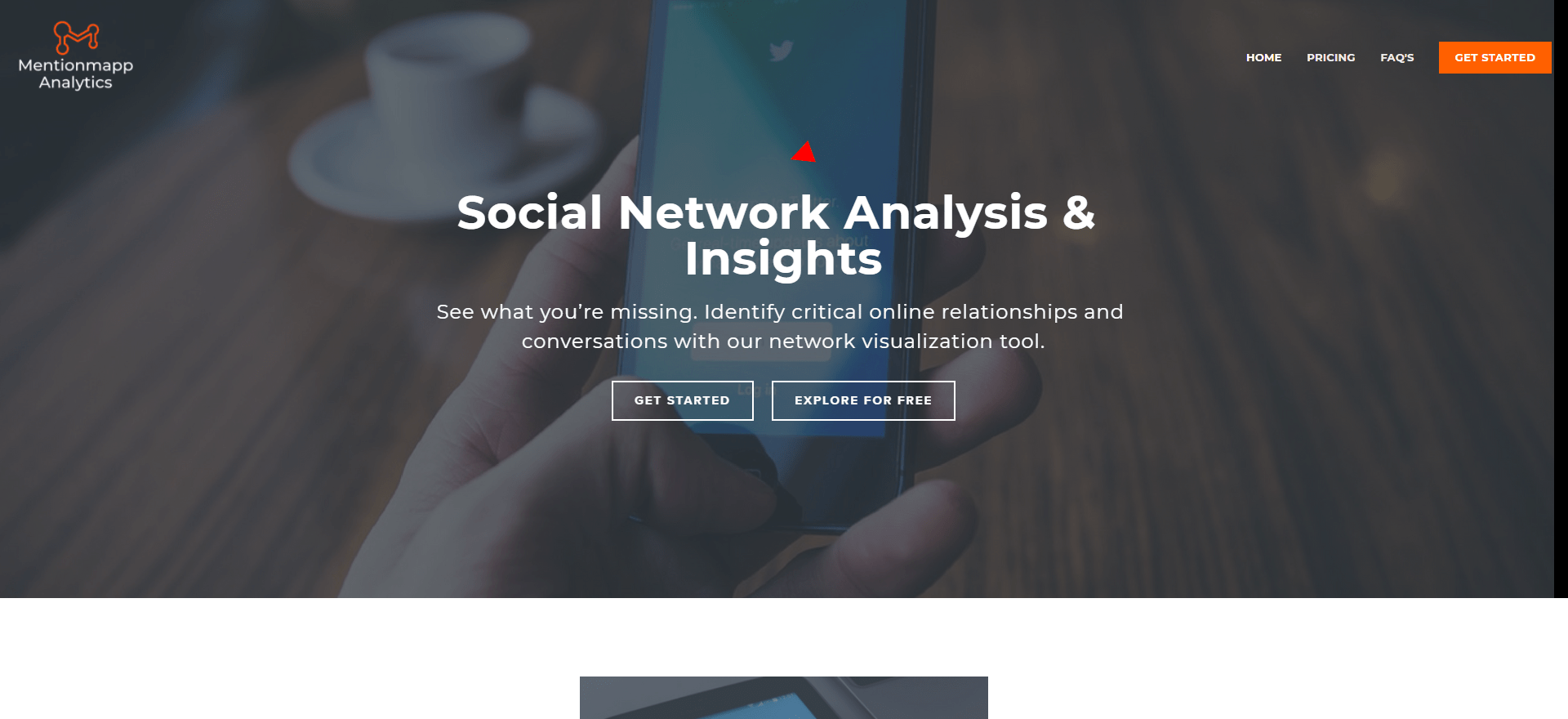 Many Twitter analytics gurus say Mentionmapp is their preferred Twitter analytics tool. You'd be right to ask why. Well, not everyone is comfortable with boring reports with graphs and numbers. Mentionmapp ensures you have precisely none of those.
According to some reviews of AssignmentHolic on social media, If you want to dive head-first and deep into the real engagement and relationship-building on Twitter, you should consider Mentionmapp. You get excellent visualization of what's going on across the platform. With custom research, users can pinpoint fake profiles from conversations that matter to them.
As a result, you can eliminate retweets and content creation based on misguided information and perspectives to your followers and fans.
How does Mentionmapp work? Mentionmapp creates a mind map to represent connections between user profiles and hashtags in your niche that have ever been a part of your previous tweets.
You can filter your tweets to reveal retweets, mentions, or a retweet cloud with either a negative or positive sentiment. If you want a tool to discover connections between profiles and to find new relevant content, Mentionmapp is the tool of choice.
Mentionmapp enables users to see social engagement, unravel topical thought leadership, and learn areas of weak and robust engagement.
When you create maps using filters such as tweets, mentions, and sentiment, you have a powerful visualization of how your profile connects to others.
According to the latest reports of the SuperiorPapers, when companies care about security, Mentionmapp can deliver reports on digital identity threats and accounts that could potentially endanger your company.
User verdict
Users find it intuitive to relate socially-relevant data. Since it interestingly maps user profiles, new users always find this tool interesting to use. They also love the unique visualization of your Twitter network.
What we think
We recommend Mentionmapp to anyone interested in discovering new content and analyzing how different Twitter accounts connect based on connections. Journalists will find this feature to be highly beneficial. There's a free account with limited features, whereas paid tiers begin at an affordable $9. There's probably no better tool to discover new content and spot new connections.
#6 Native Twitter Analytics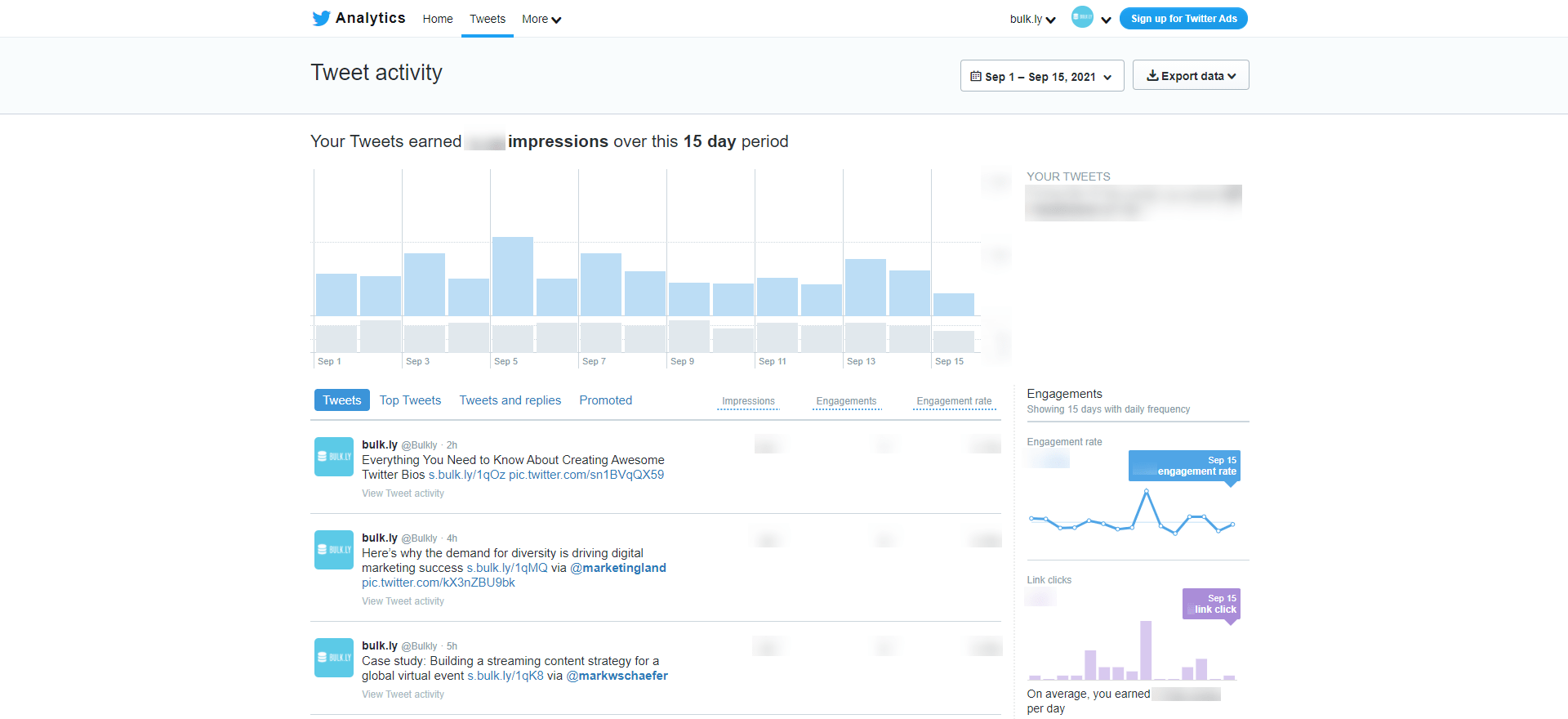 There's no better place to begin than home. Twitter offers a decent analytics tool that's free to all users. These free Twitter reporting tools are a great option if you're looking to get your feet wet in analytics.
What does it offer, though? You get overall engagement stats and other essential metrics such as top tweets, top mentions, and so forth. In a nutshell, you can learn more about your audience: their interests, level of education, occupation, marital status, and even buying preferences.
If you know these about your followers, you can begin the journey of delivering more relevant content that'll boost your sales and improve your bottom line.
User verdict
The consensus among users is that it's a great tool – probably one of the best available. They also love its social listening feature.
What we think
Twitter Analytics is easy and intuitive. Every user who wants an easy introduction to Twitter analytics can begin with this. It can give you a really good idea of what data you should pay attention to before you invest in a more expensive option with even more powerful features.

The best part of Twitter Analytics is its cost – $0.
#7 Socialert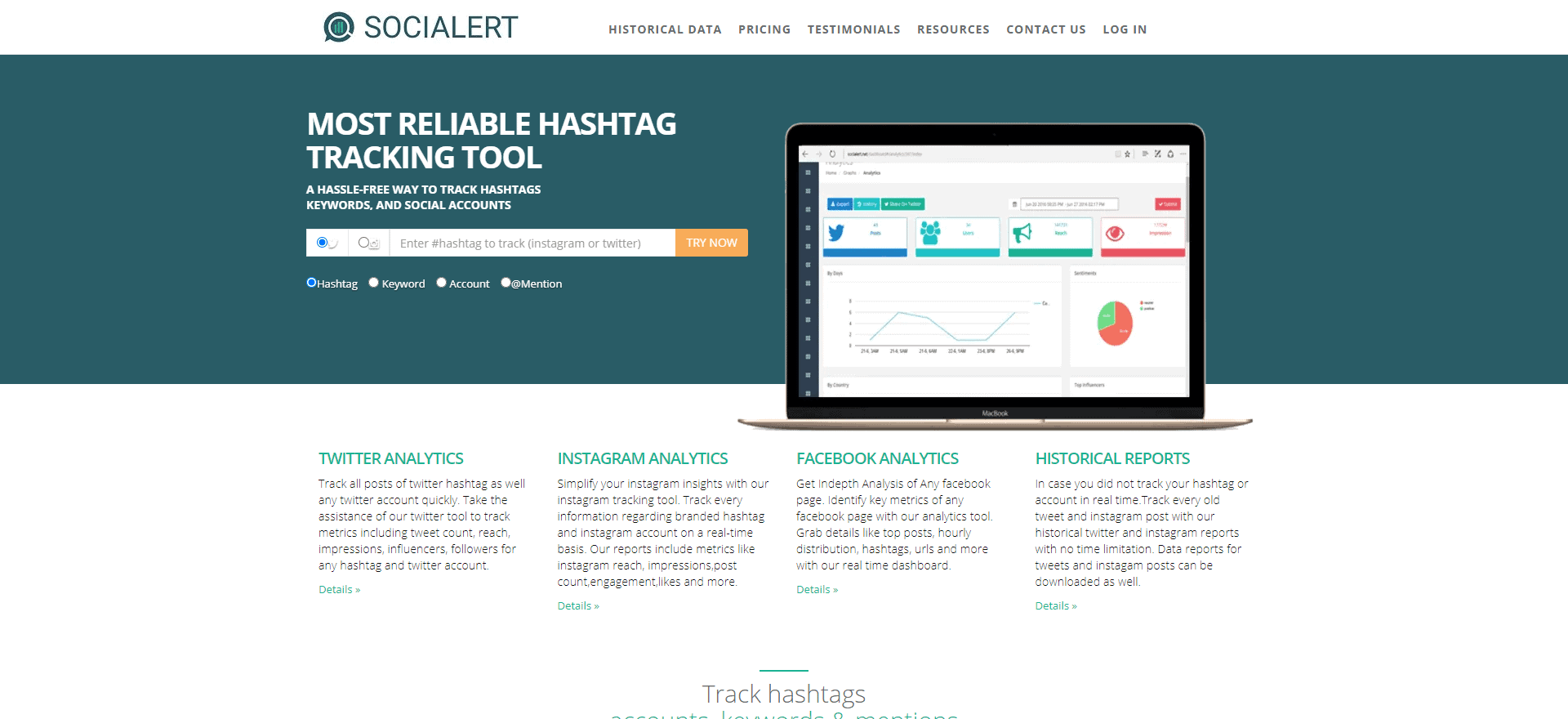 Many of the tools in this article are useful in many respects. Socialert is not different. It's the perfect Twitter analytics tool offering real-time performance metrics for hashtags. It also delivers historical data on tweets and hashtags.
The analytical tool gives the ability to track and analyze your competitor's Twitter campaigns. When you can analyze the success of hashtags in real-time, you can tweak your marketing tactics and strategy accordingly.
Socialert allows you to track and analyze followers and competitors. Besides that, users can analyze tweets, identify influencers, and conduct brand monitoring and hashtag analytics. Can you identify the hashtags you need for your campaign using this tool? You absolutely could.
User verdict
Why do we love Socialert? They have an easy tool to track Twitter engagement and compare competitive marketing strategies.
What we think
Socialert is a decent tool. There's no free trial, but if you don't mind shelling out a few bucks to try it out, go for it. It's only $24.95.
#8 Sprout Social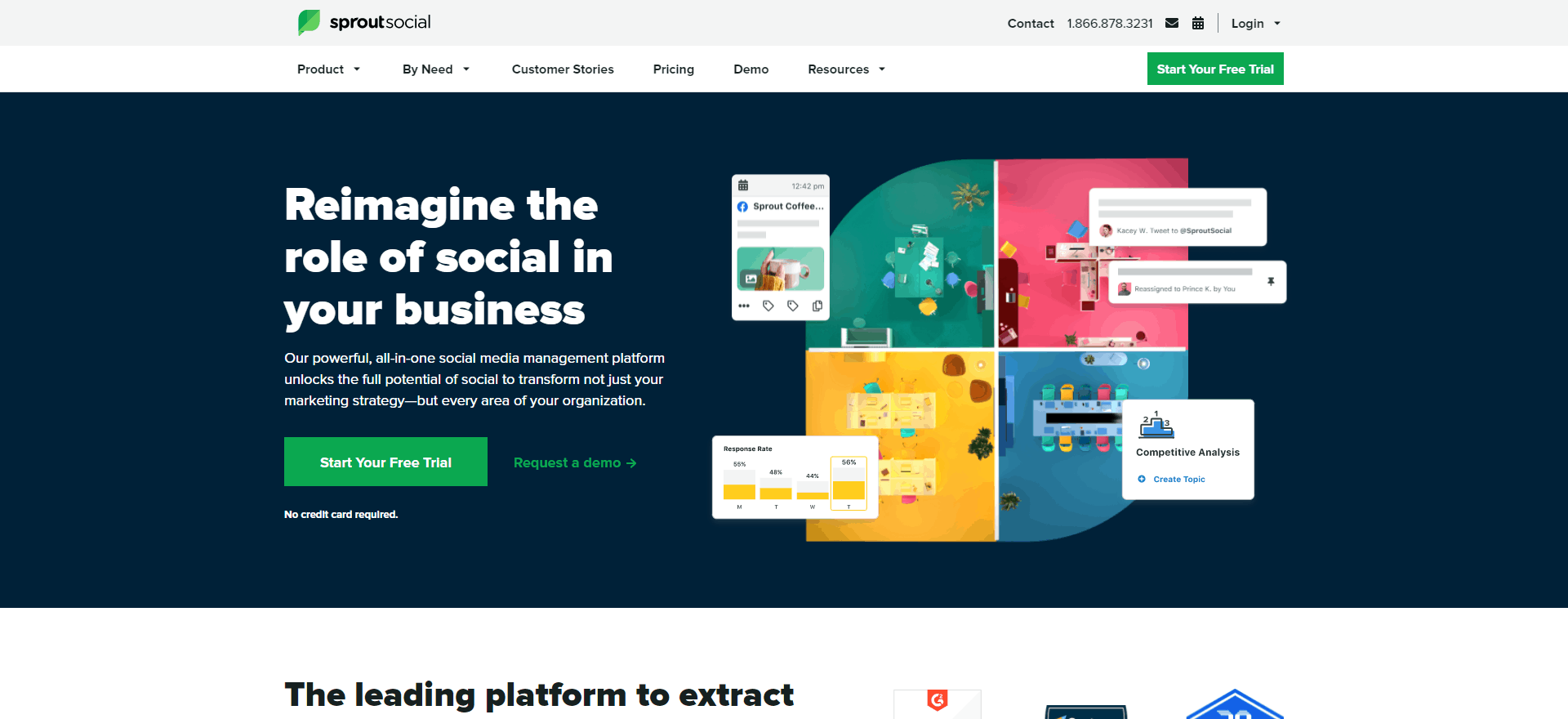 Another name that one cannot deliberately miss from any roundup of social analytics tools is Sprout Social. It's a really powerful alternative to Hootsuite. So, marketers and agencies can trust it for managing multiple social media accounts.
Sprout Social allows individuals, small businesses and big enterprises to integrate effectively and seamlessly with various social media platforms.
What does Sprout Social track? It tracks overall and specific engagement, reach, top tweets, and ranks your best hashtags. It's also useful for scheduling, organizing, and publishing all tweets easily without leaving Sprout Social.
With Sprout Social's social listening, you can discover all the different ways people are mentioning your brand. It also offers detailed per-tweet analysis. If you want to avoid being overwhelmed by details you don't need right now, you can request custom reports containing just the data you need.
Sprout Social's smart inbox feature lets users analyze overall engagement statistics across social media profiles. Of course, this includes Twitter. So, you don't have to log into social media websites.
What else can you do on Sprout Social? You can analyze the business next door if they're a competitor. You can also identify current trends and track keywords and URLs while providing a comprehensive social media management solution.
User verdict
The end-to-end analytics of Sprout Social is its brightest point. It has many features in one robust package for publishing, team management, and significant full stack analytics.
What we think
Social media agencies with a need for a full-stack analytics solution should consider Sprout Social. It can help to improve brand interactions and conversions levels. The reports are easy to customize for multiple social media accounts, including Twitter. Plans begin at $99 per month with a no-cost 30-day trial. The superior capabilities easily justify the higher price.
#9 Tweet Binder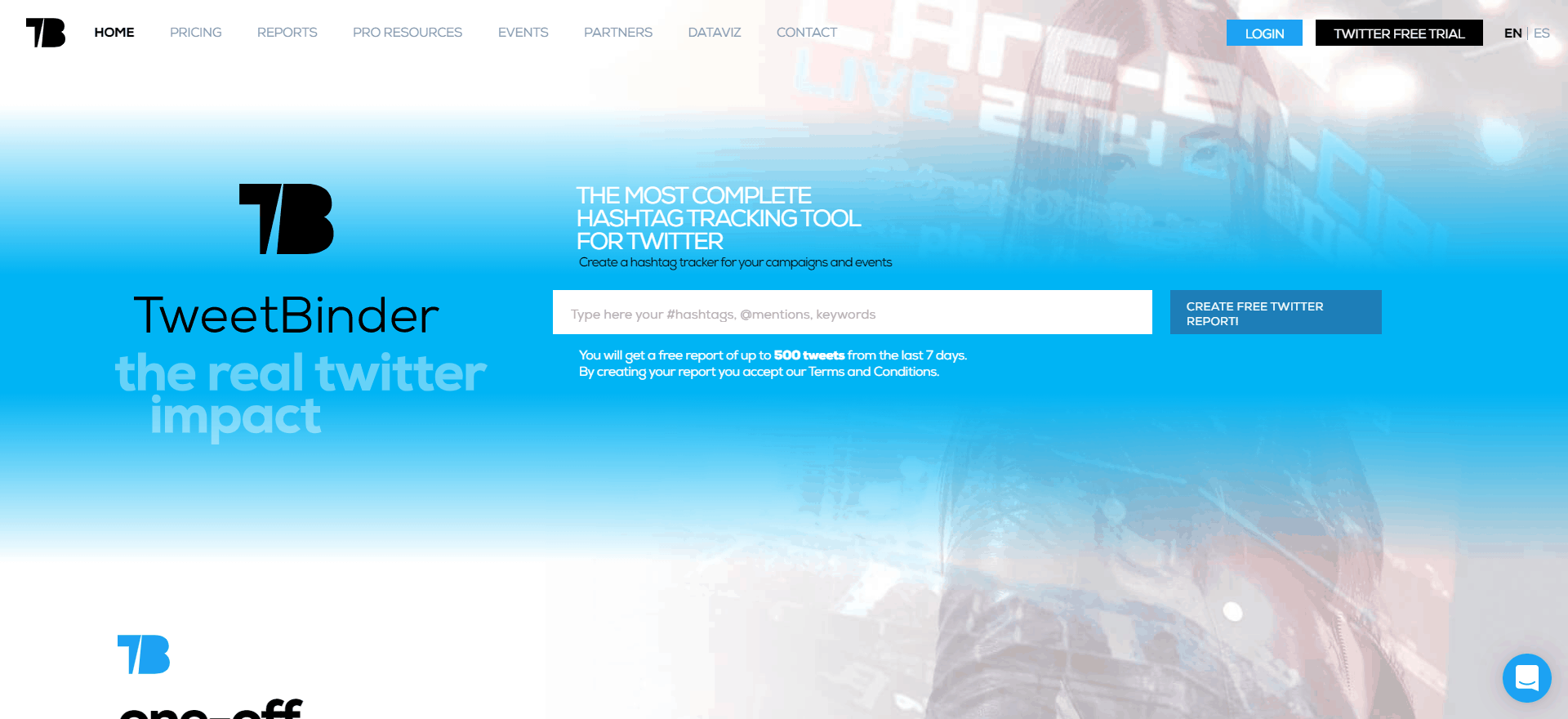 Another great tool for hashtag monitoring is Tweet Binder. Other tracking features focus on keywords and mentions. You can then measure how effective your campaigns and promotions are while they are going on.
Tweet Binder has this other nifty feature you should be aware of. This feature is the automatic classification and grouping of tweets to help you understand why some tweets outperform others.
User verdict
Users report that their favorite Tweet Binder feature is its live campaign and promotions monitoring.
What we think
Who would we recommend Tweet Binder for? Everyone! But, if you're an agency or a marketer with a need for social listening and live hashtag monitoring, you should use Tweet Binder. It's $88 per month if you're ready to make the leap.
#10 Twitonomy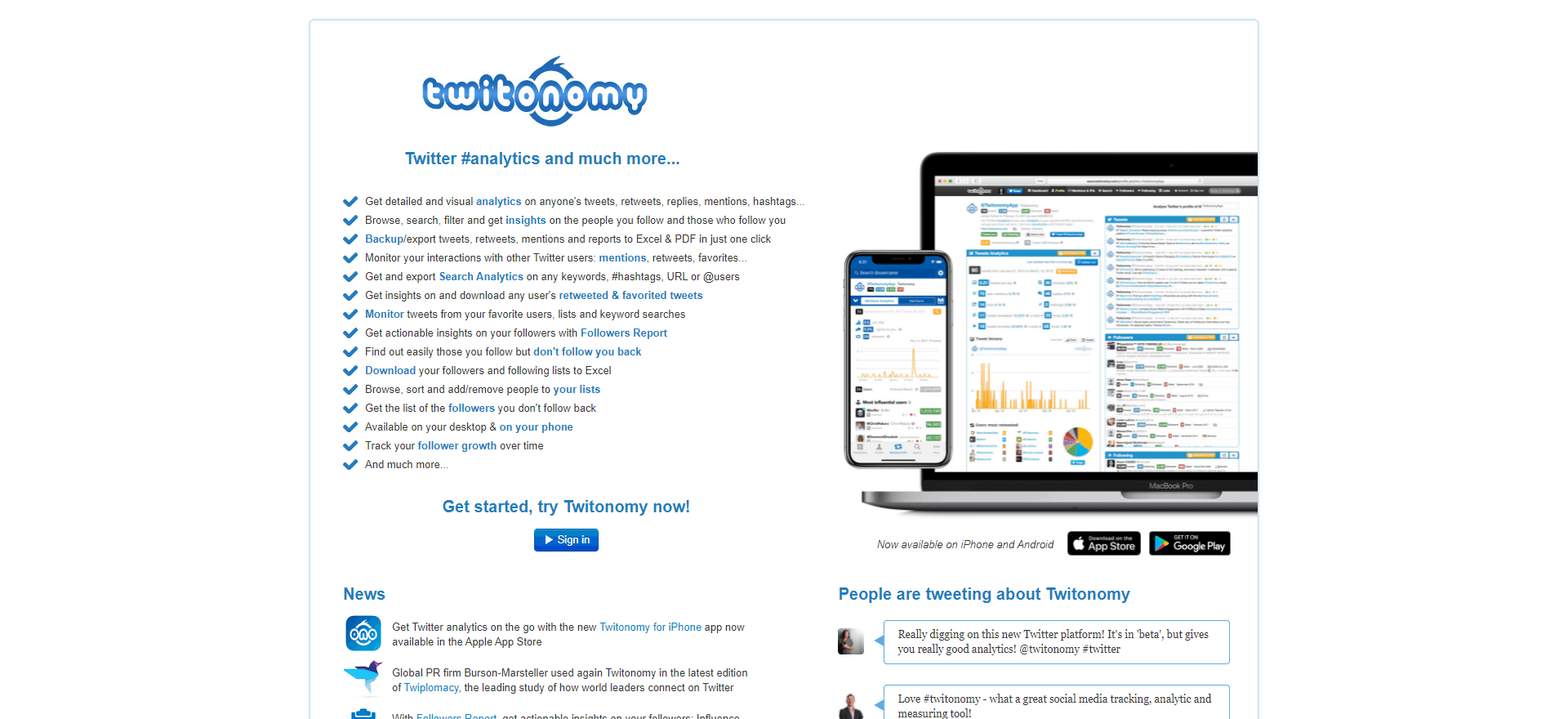 Last but certainly not least is Twitonomy. It's an analytics tool that provides users with a wide array of informative resources. Twitter analytics using Twitonomy includes a list of top languages used in tandem with unique hashtags and hashtags.
The analytics tool also allows the examination of any targeted Twitter handle traction.
So, what else can users achieve with Twitonomy?
They can analyze any Twitter profile using hashtag, mentions, tweets, and retweet variables. They can also glean in-depth insights on your followers and those you follow. The tool also offers insights on tracked hashtags using in-depth analytical reports and an interactive map of users that mention you in their tweets.
User verdict
With Twitonomy, you can get extensive accessible reports on any public Twitter profile with revealing metrics of the user's previous Twitter data. Users may also monitor tweets, access reports, and manage lists using Twitonomy.
What we think
Twitonomy is one Twitter analytics tool we always recommend whenever we get the opportunity. The premium plan begins at $20 per month.
#11 Union Metrics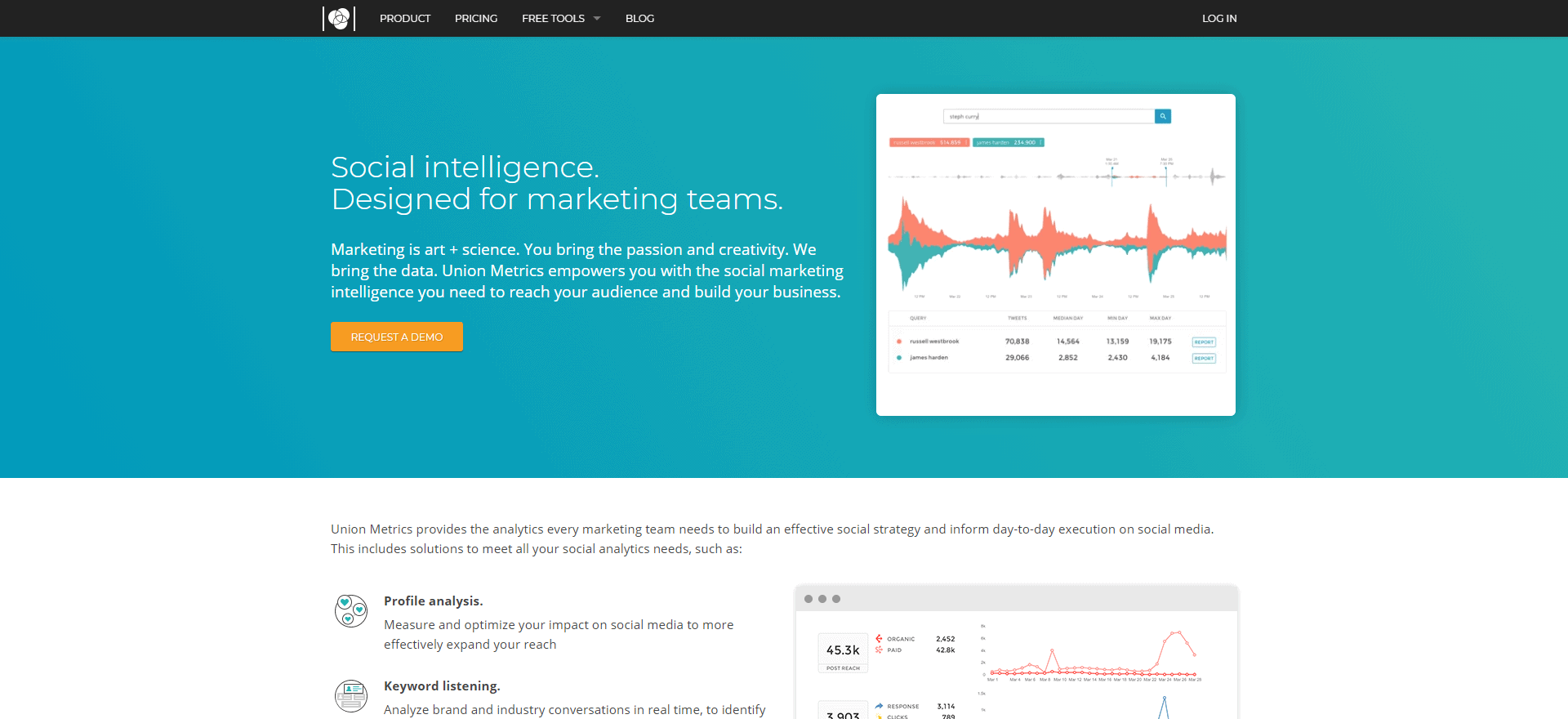 They say to put a fish in water to allow its genius to emerge. When it comes to social intelligence, Union Metrics is probably the name on most lips. It maintains its focus on data alone, leaving you with enough insight to keep your competition playing catch-up forever.
Union Metrics' attention to data is what makes it different from other tools like Hootsuite or Sprout Social. Using its Reports, you can quickly see trends as they happen and pinpoint new content from multiple brands. If you're looking for suggestions to grow your followers and the best times to tweet, Union Metrics is the real McCoy.
You can track your goals against the performance of your competitors and even share customizable reports with clients.
The Twitter assistant will analyze your recent tweets. The outcome of this analysis will offer customized recommendations for what brands can do to boost followers and engagement count.
The other Union Metrics Twitter analytics tool is the Twitter Snapshot Report that provides a visualization of Twitter activity. Users can share the reports with their colleagues.
User verdict
Users love Union Metrics' helpful reports. They say these and other tools help improve their understanding of multiple brands.
What we think
If your team is large and spans several brands that need advanced analytics without scheduling, you should consider Union Metrics. You can begin with the free tier with essential tools until you can afford the more robust $23-per-month option. The free tier is exceptionally robust for newbies to social media and Twitter analytics.
#12 Unmetric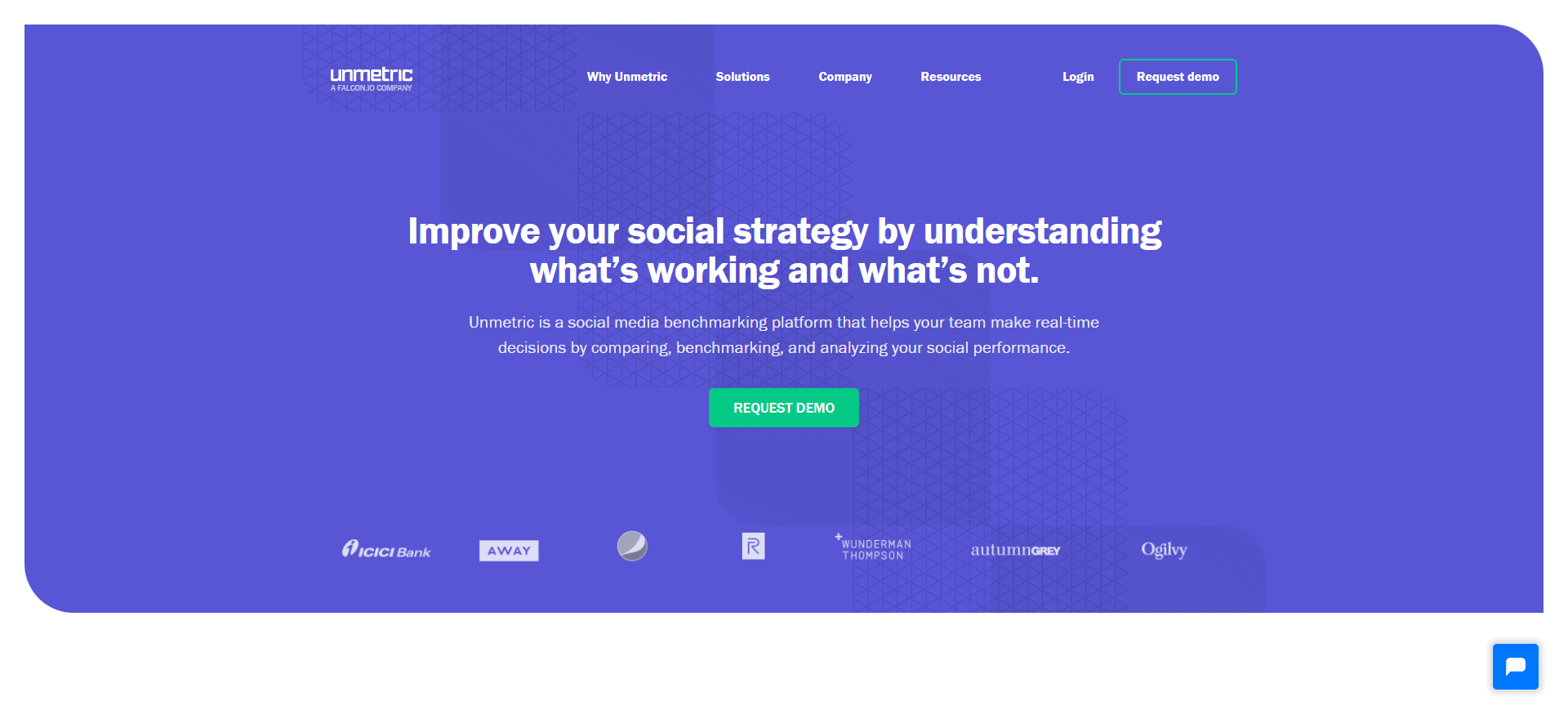 So, the world is increasingly interconnected, and businesses are growing in their adoption of AI- and IoT-powered applications and tools. More than three-quarters of B2B companies now use Twitter actively. Unmetric is a social media intelligence platform with a strong brand component.
With Unmetric, companies can collect reliable social media data to perform better on social media. It translates to the creation of more engaging content, a data-driven social strategy, and automation of tedious tasks such as reporting.
Many of the features within Unmetric will help you to properly analyze your brand's social media performance on Twitter and make superior marketing decisions.
In terms of twitter analytics, users can also dissect tweets to improve engagement and timing.
It's common knowledge that brands use the Twitter platform to resolve customer queries and complaints. This service can be essential for those who help with the dissertation service. Well, Unmetric has Twitter customer service analytics that allow you to view all types of queries from customers and prospects. It also tracks the average time you take to respond to them.
So, you can now have an objective view of your efficiency at handling queries and tracking your response rate too.
The "Share of Voice" feature gives you a hard look into how much your brand dominates on a social network as you keep trying to outwit your competitors. Unmetric's pie chart provides an essential visualization using Likes, Comments, and Shares components. It also uses the frequency of content while tracking the engagement score of hashtags in your tweets, retweets, and campaigns.
A word cloud in the tool displays words present in your tweets that gained the most engagement. The reason this matters is that you now have a concrete foundation to build your content strategy upon.
On the Unmetric platform, you can benchmark how well you're doing on Twitter against your competition. The competitor analysis feature helps with this, allowing users to set alerts for a particular phrase or keyword. You'll get a notification every time someone uses it on the web – this is the best definition of cool.
User verdict
A modern technology-driven application like Unmetric will always win users compared with near-manual analytics solutions. Users are happy to invest in it as long as it keeps the competition a gazillion miles behind.
What we think
Unmetric is likely the Twitter analytics tool of tools. It's not cheap, though. Your company needs to work an extra $1,000 monthly to monitor thirty brand profiles. Price aside, Unmetric is a must-have tool.
#13 Sotrender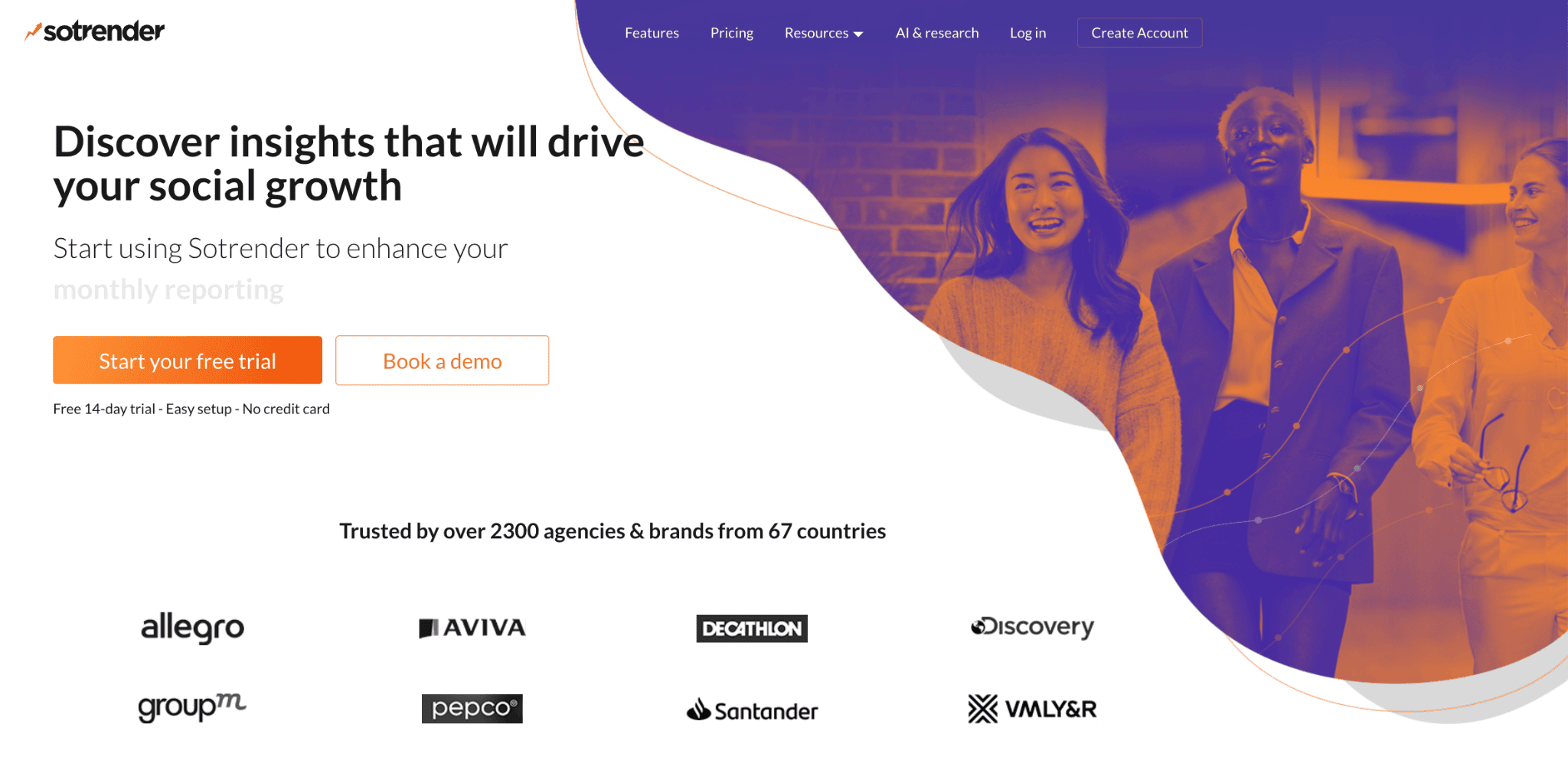 Another alternative tool is Sotrender which supplies you with very comprehensive insights into Twitter activities and results. Besides the pivotal Twitter metrics, Sotrender enables you to compare results between selected profiles – yours or your competitors'.
You can check and compare the number of followers, audience overview, reach, engagement and more which are the cornerstone of Twitter analytics. At Sotrender, you can also access the Activity Index which is the collective weighted rate of user activities on your profile. You can spy on how the number of users' activities have been changing over time, on which days and at what hours they were the most active, which altogether will give you the idea what is the best time to reach them.
What is more, you can easily track and analyze your brand activity over time, view your top tweets and see tips for your profile to master your Twitter strategy.
User Verdict
The tool provides a holistic picture of Twitter activities and results and makes it possible to compare the effectiveness of particular activities on different profiles. What also speaks for Sotrender is its smooth reporting process which takes less than a minute. Reports are generated automatically, packed with all essential data and available in editable formats.
What We Think
Sotrender gathers the most important metrics under one roof and makes it easy to compare them between selected profiles. The cheapest package is Freelancer and it starts at just $34 per month. The unquestionable perk of Sotrender is its smooth and effortless reporting which helps to save a lot of time each month.
Final thoughts on Twitter Analytics Tools
Twitter analytics feature heavily in social media marketing, and it continues to grow in its importance. With brands tweeting up to one hundred and twenty-two times each month, they need Twitter analytics tools that will provide vital insights and help maximize the success of Twitter campaigns. The twelve Twitter visualization tools here are some of the most comprehensive available. And they're easy to use and easy to learn.